By Lisa Padgalskas Hand
THURSDAY
It is our first full day in what is one of the most spectacular places I have ever been.  I am lounging on a luscious, canopied daybed against a pile of oversized pillows, gazing out to the jagged mountains peaks that surround the lush green valley. Vicki is sunning herself on a nearby lounge chair, adjacent to the tranquil "Sun and Moon" pool, and we have entire area to ourselves.  Despite the forecast of rain everyday, the sky is a perfect crystalline blue. The air is warm and delightful.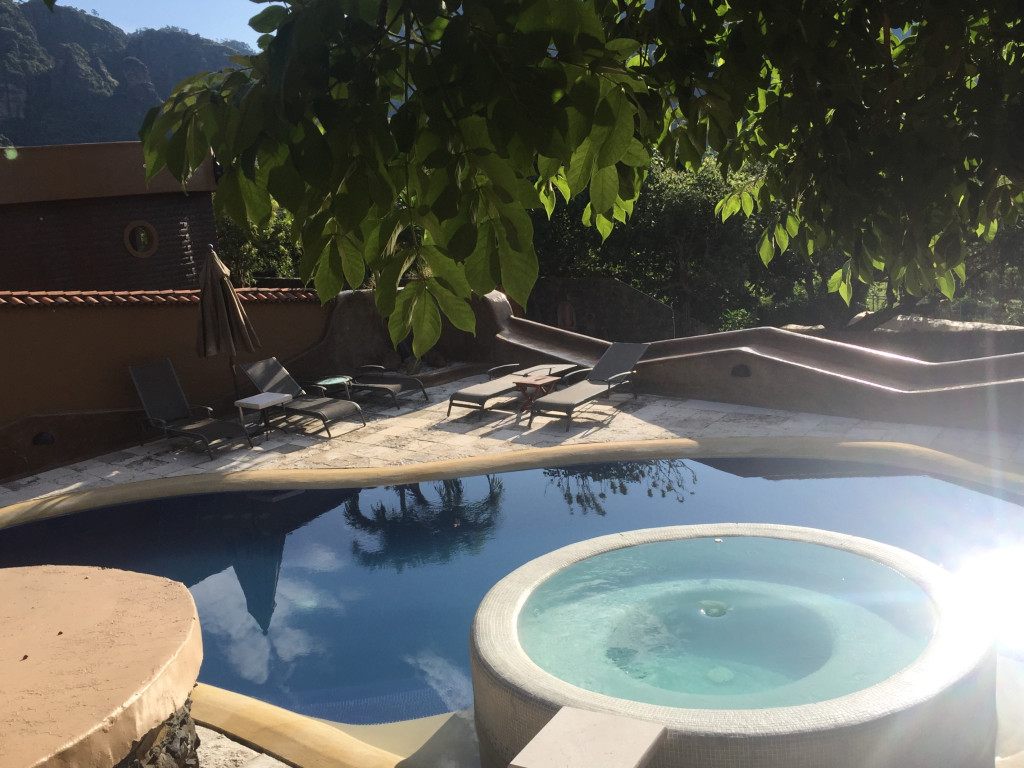 I'm in an altered state of mind, in a dream world. I'm simply in awe that I'm even here. I've left my husband and our daughter and our four cats to be here for a spiritual retreat in the depths of the Mexican jungle, two hours south of Mexico City. And why? Because Vicki sent me an email. I had never heard of the place she described, yet the pull was so strong. Everything in my being said yes.
Looking out at the beauty and the dappled sunshine and the towering mountains, I know I was meant to be here, here at the Hostal De La Luz, in the sacred valley of Tepoztlan. It's just so very clear that the universe conspired for me to be here. Nothing in my life has ever fallen so easily into place.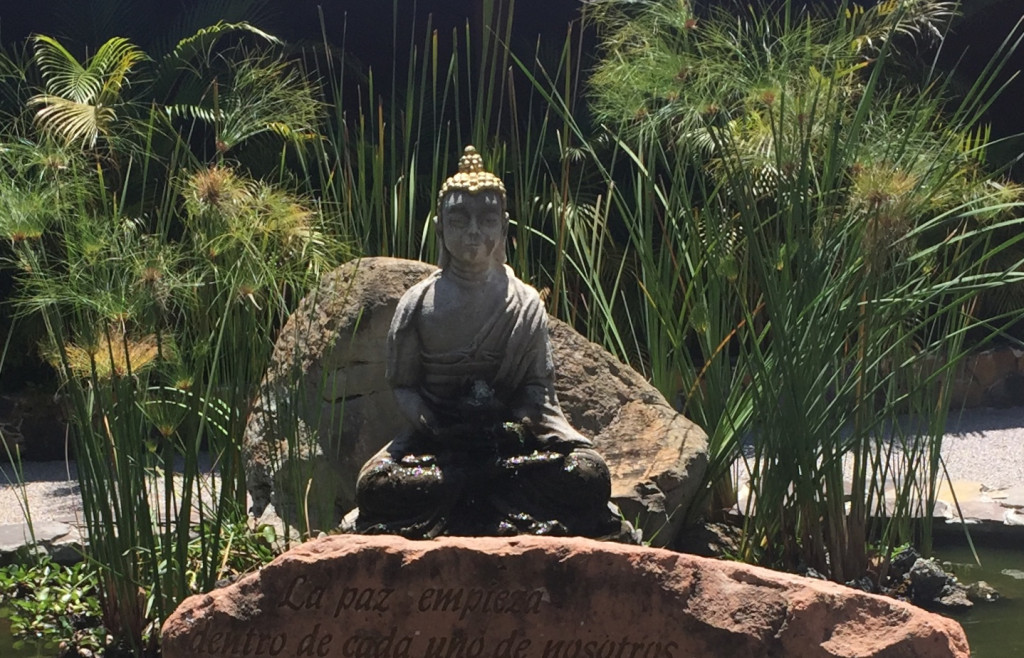 Two and a half years ago things were good.  My daughter Bailey was at college and Rick and I enjoyed our rental home in Laguna Beach while we worked on plans to build our house. I spent my days riding Honey, my beautiful half-Arab palomino horse, and taking my ninety-year old mom, who had such a keen sense of humor, out shopping, and to lunch and to visit her friends. Once a week I volunteered as a docent and teacher at a local seal and sea lion rescue center.  Life was monotonously perfect.
Then everything changed.  Honey came down with laminitis, a painful problem in her feet, and then she foundered, which put her in the equine hospital for six weeks.  It turned out to be two years dealing with the disease.  It finally seemed she might be okay, but then a year ago May, she was sent to the hospital again, this time for colic surgery to remove ten feet of her small intestine.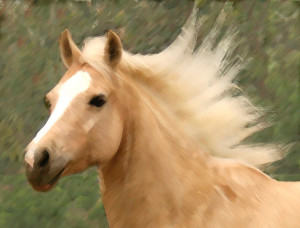 That same week, our year-old kitten, Daisy, disappeared.  She was a little black Goddess, exuding such purity and joy, and her loss hit me hard. Several months later, my mom started declining and went into hospice.
Honey never recovered from her colic surgery and in October she had to be put down. Our beloved golden retriever, Koko, also so delightful and happy, was discovered to have a brain tumor.  A few months later, in February, my mom passed away after being bedridden for a month, just two hours after I'd left her sleeping. Koko was put to sleep three weeks later.
I decided it might give me solace to return to the Marine Mammal Center which had been my passion for years.  But things had changed; I couldn't go back.  I had just turned sixty and I looked ahead.  What would give me purpose for the rest of my life? I had no idea.
I was weary from the stress and the loss.
All my life, I had searched for a spiritual path, but the only thing that truly resonated with me was just to help, and to be there, and to love… my family, my friends, and the people and animals that were important to me.  This fulfilled me.  I knew I should be happy still. There was still so much to be grateful for; for my husband and my sweet twenty-four-year old daughter, for having a nice home in southern California. Still, I couldn't conquer this feeling of lifelessness.  Too many loved ones – that had brought such joy –  had passed so quickly and now were gone.  There had also been divorces, as well as other losses; both Rick's parents, and my sweet, funny Uncle Stanley. Too much, oh Lord. Too much.
Yet, this is the way of life.  Everything must pass, even those you love. I felt heavy with a sadness that wouldn't abate.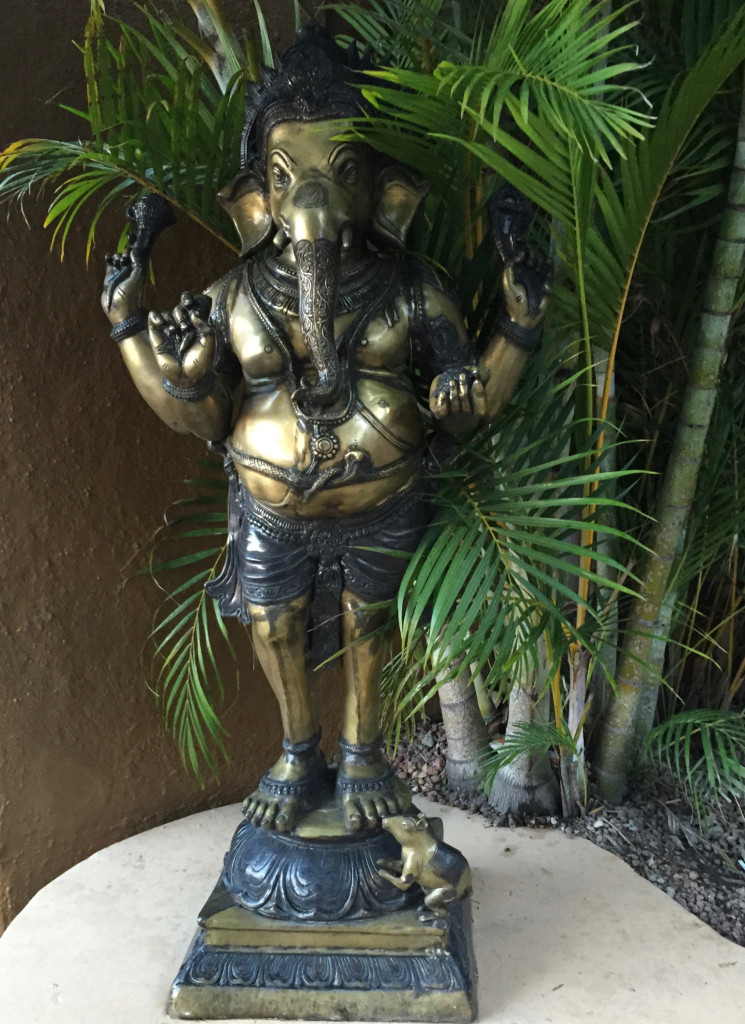 I look at my watch. It's only noon.  Time is moving so slowly.
Now that I'm finally here, the reality of Tepoztlan has far exceeded my expectations; I feel a sense of serenity I haven't had for a long time.
I woke up this morning as the sun was just rising over the mountains tops, flooding our room in sunlight. I lazed in the hanging swing chair on our patio while Vicki unpacked, and then we decided to explore.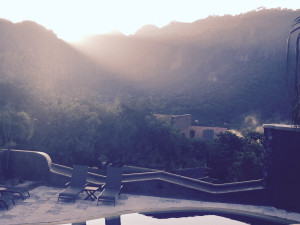 Vicki and I have been friends for twelve years. She's part of our group of five couples, including some of us that have been friends since our twenties and before. Vicki is our most recent addition.  She's cute and petite and in her 60s like all of us. She's exceptionally fit as she's a yoga teacher, massage therapist and avid scuba diver who travels to dive spots all over the world.
We had wandered the resort grounds and they are gorgeous. There are quiet shaded areas with daybeds and padded swings that encourage reflection and mediation as you gaze on the stunning views. Everywhere among the beautiful landscaping are sublime statues and carvings of the various spiritual traditions.  A large tiled dragon head, with a long body slithering up behind it, opens its mouth to a small glittering pool in a private garden. A lovely Nirvana Palapa, where yoga classes are conducted, is shaded by African Tulip tree with its dazzling orange blossoms.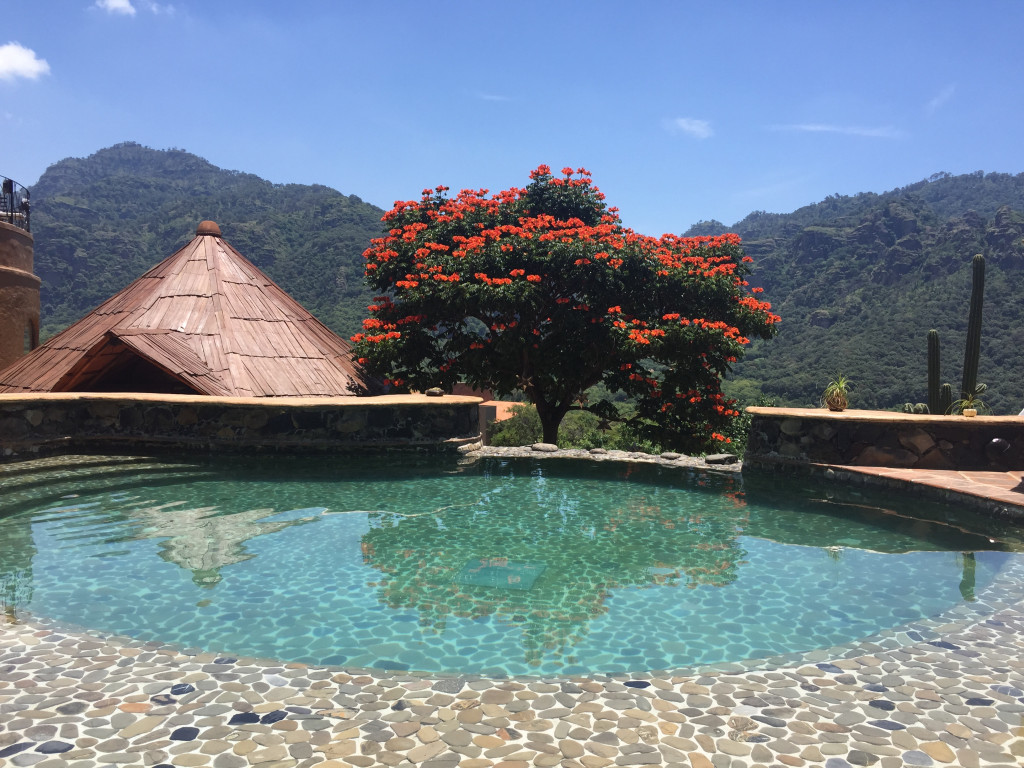 Now, as I sit here at the pool, gazing out to the mountain ridges it feels like I've been here forever. I decide to jump in the pool.  It is warm and perfect, heated by the sun.  I float on my back, eyes closed, for long time.
A guy named Steve, a former American Airlines pilot, arrived last night, just before Vick and I did.  We had dinner together and shared a bottle of wine.  Now it's lunchtime and we're sharing a plate of amazing shrimp tacos on the restaurant patio which is elevated above much of the resort.
"Oh look, they're here," says Steve, gesturing toward a two-story Spanish style building a short distance away. I notice he resembles Albert Einstein, though Steve is thin and lanky.
I look down and see some people below with their carry-ons, heading to their rooms adjacent to a beautiful mineral pool.  The three of us linger a little longer at our table, finishing our food and beverages, and in time we get up and wander our separate ways.  I need to go text Rick, so I head over to the Nirvana Palapa, where earlier Vicki got WiFi.
I see Steve standing at the edge of the pool talking to someone with his back to me.  I realize it must be Bruce, who put this trip together.  I haven't met him yet, but we've talked a lot on the phone.  He turns to me with a smile and I see he is fortyish and charmingly boyish, with a buzz haircut and glasses. I like him immediately.
Bruce tells me he has been to Hostal de la Luz several times, most recently bringing in a corporate group for inspiration and team building.  He is a life coach and arranges trips geared to those seeking a personal-growth experience. While we stand by the pool, he tells me about Quetzalcoatl, the Plumed Serpent god, and the history of Tepoztlan Valley.  He says we're in a voltex area that's been scientifically verified to have heightened energy.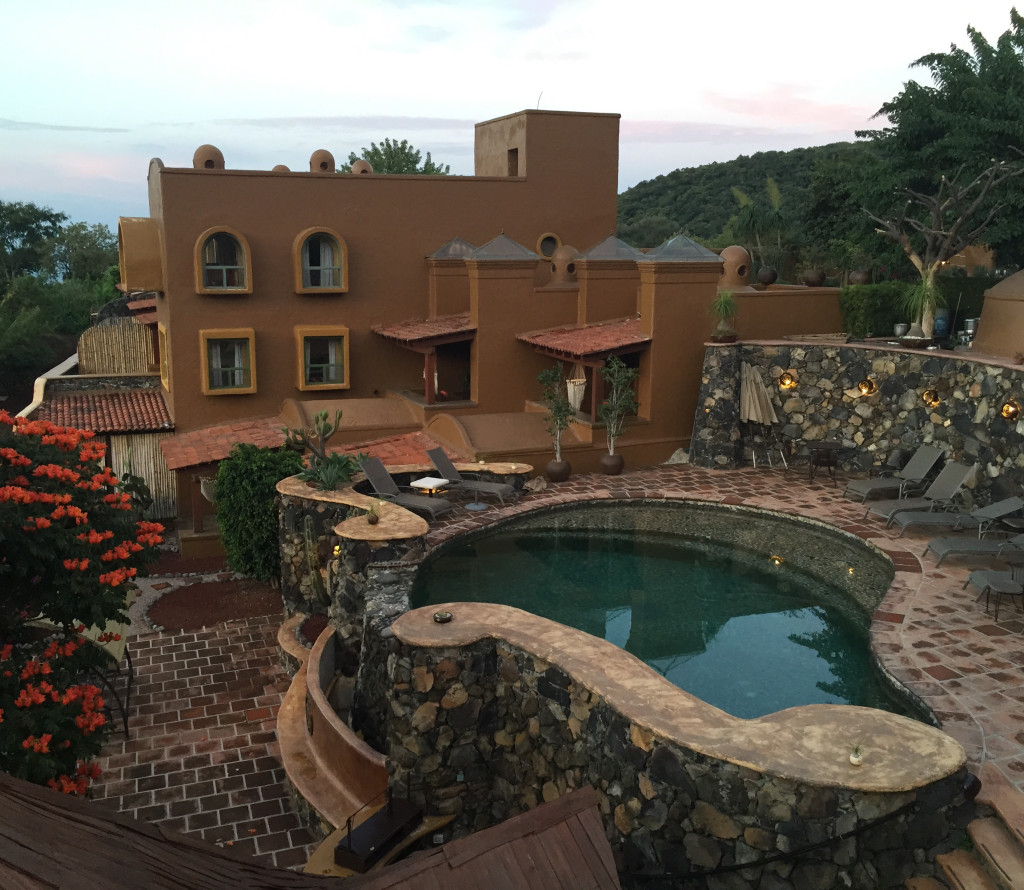 "But I think it's an individual thing," he tells me.  He has a slight east coast accent. "It might sound a little 'woo woo,' but I think a vortex is wherever someone feels inspired and energized."
Around five, the entire group of ten gathers by the Nirvana Palapa, under that gorgeous African Tulip tree.  It's a mixed bag of people.  There is Reverend Guy, the minister for the Center for Spiritual Living; Andrea, his significant other and the proprietor of Yoga Love where Vicki is a teacher; Linda, a tall, slender fifth grade teacher; Erica is a Mexican dentist  from Tijuana who helped Bruce put this trip together; Beto, a wiry Mexican with mustache and facial hair and who lives with Bruce in Tijuana. Also there is me, Bruce, Steve and Vicki.  Missing is Rachel, a free spirit who is off doing her own thing.
We're all talking and getting to know each other, and then Guy starts to speak, to welcome us, and everyone quiets down. He asks each person to says something about ourselves and why we're here. Several mention for nature and the beauty, others are looking for heightened consciousness.  Me?  I tell them that simply, I said "yes" to Vicki's email, because I was in a place where I needed guidance, and I'm completely open to whatever the next few days will bring.
At one point, Bruce asks if anyone would like to meet with a Mayan Astrologer, and without a thought, I say yes.  He says he'll arrange it.
Later our group is given an official tour of Hostal de la Luz by a guide who tells us more about the various areas and statues and pools, and shows us the labyrinth which we'll be walking on Saturday.  We briefly visit the Temazcal or heat lodge, which we'll experience tomorrow.  Dinner is at 8:30 and the food, wine, and company is great.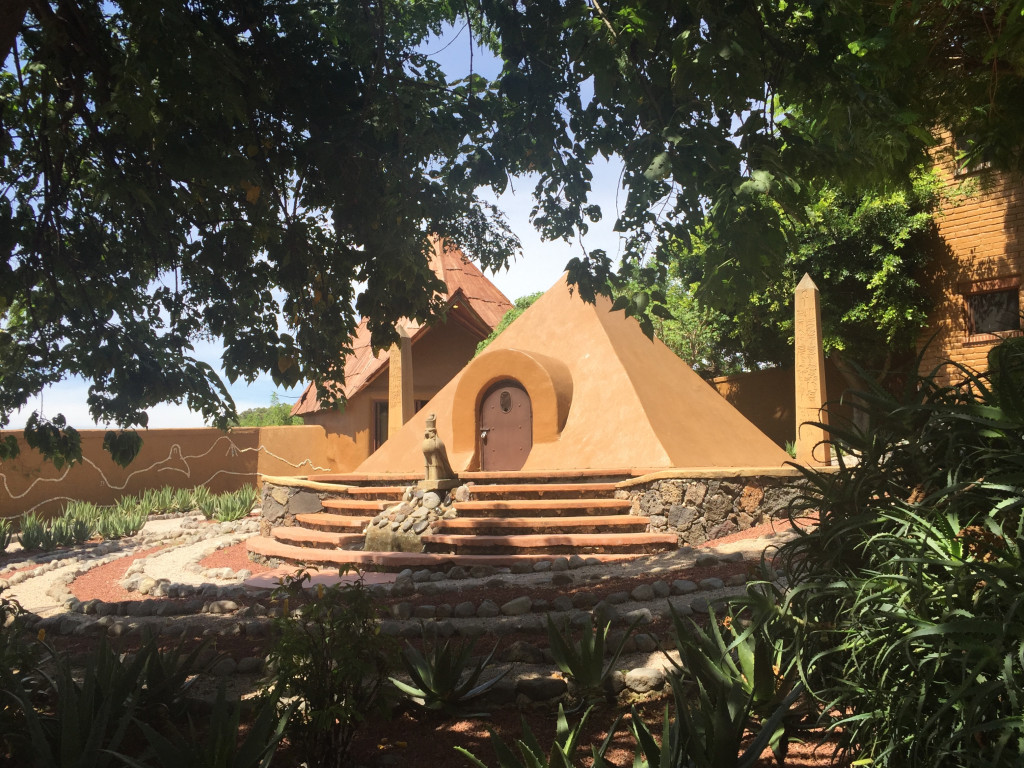 FRIDAY
Today, our first full day of the program, will be a busy day, jam-packed with activities: Early yoga in the Nirvana Palapa, then meditation in the Ashram.  After lunch, there'll be swimming and downtime, and then the Temazcal – the heat-bath ceremony – which should be particularly eye-opening.  After dinner, there's meditation again in the Ashram. It'll be like a whirlwind European tour – five countries in three days. Ha! If it's Friday, we must be in heaven….
However, we are humans and there are egos. In just a day this group has already spent a lot of time together.  Two of the group are more talkative and opinionated, less sensitive to the others. I really do like them both, but I'm not here to talk or become overwhelmed with another's personality. My purpose is to go inward. So aside from Vicki who's so easy to be with, I spend limited time with others.  There's so many delightful and inspiring places to hide and find peace.
Besides that, I do have my demons to pursue.  Or perhaps I should call them my angels. I certainly couldn't come all the way to the jungles of Mexico and expect to glide over the stuff that put me on this journey in the first place.
The Shambala restaurant, like the entire resort, is amazing in its architectural features, blending with Mesoamerican style into the energy and serenity of the landscape.  A lovely Indian goddess with hands folded in Namaste greets you at the doorway, and inside an altar of huge crystals stands before large picture windows with 180 degrees of stunning views of the mountains.  The room is circular in shape and incredibly spacious with a huge dome ceramic ceiling.  The food is amazing and meals are a time of celebration.
At breakfast I find an open seat with Vicki, Guy and Steve, and we get into a conversation about how all things change and pass. Guy tells us his Labrador retriever, Balou, his companion for fourteen years, is getting elderly and probably won't live much longer. Vicki lives with Guy and Andrea and Balou, and talks affectionately about this sweet dog; she shows me a picture she'd taken of him recently on her phone.  I'm amazed. He looks so much like Koko, our adorable golden/cocker mix, who for twelve years was such a joy to our family.  They both have light blond fur, and Balou has a big happy smile on his face, just like Koko always did.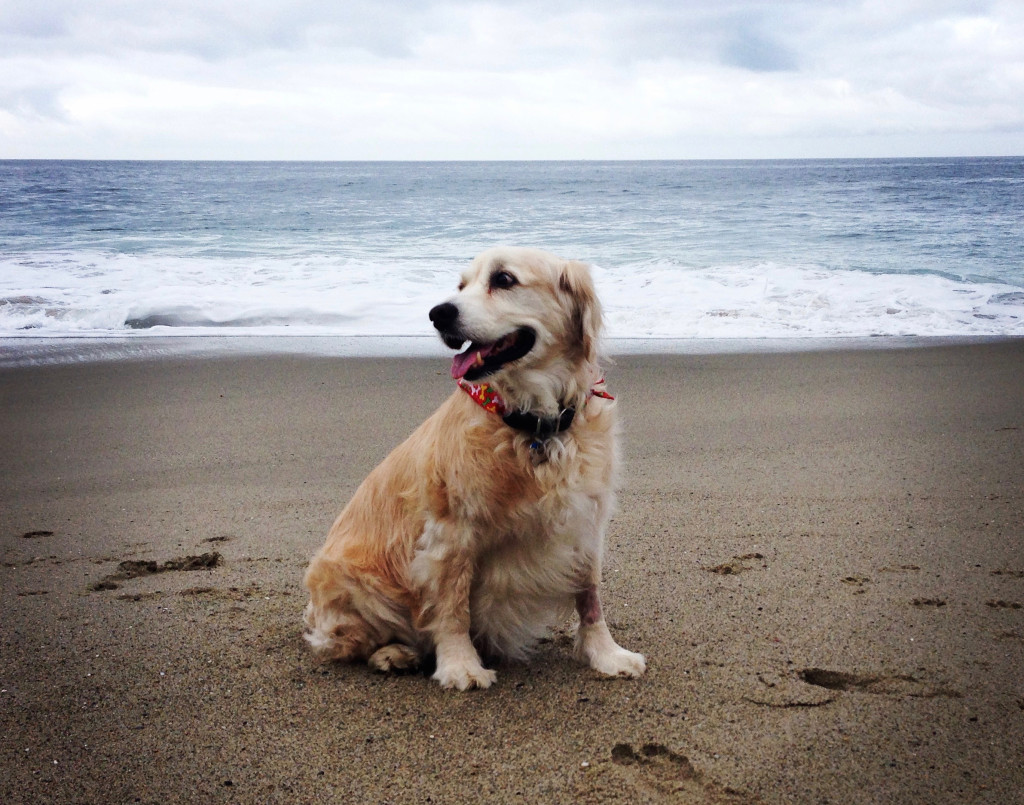 I tell Guy I understand what he's going through, and that we recently lost our Koko, the best dog ever, and I still can't believe he's gone.  Then I tell them I also lost my mom, and Honey, though I don't mention Daisy. Lately, I'd become increasingly able to talk about these things the with some equanimity and even humor. So when Guy asks me about Koko's remains, (I guess he's considering different options for Balou) I say they're in a little box in Bailey's room, and we also had a little pink glass heart made with glittery swirls of ashes throughout it. Intending to be funny, I tell them about the huge chest of Honey's ashes in our living room, and how they're impossible to move to the garage or anywhere for that matter because they must weigh some 60 pounds as basically there was a whole horse in there.  I plan to scatter those ashes someday along our favorite eucalyptus-lined trail, I say, where Honey and I had ridden literally hundreds of times….
But as I visualized this, I feel my chest constricting and that relenting sadness flooding and the tears start to come.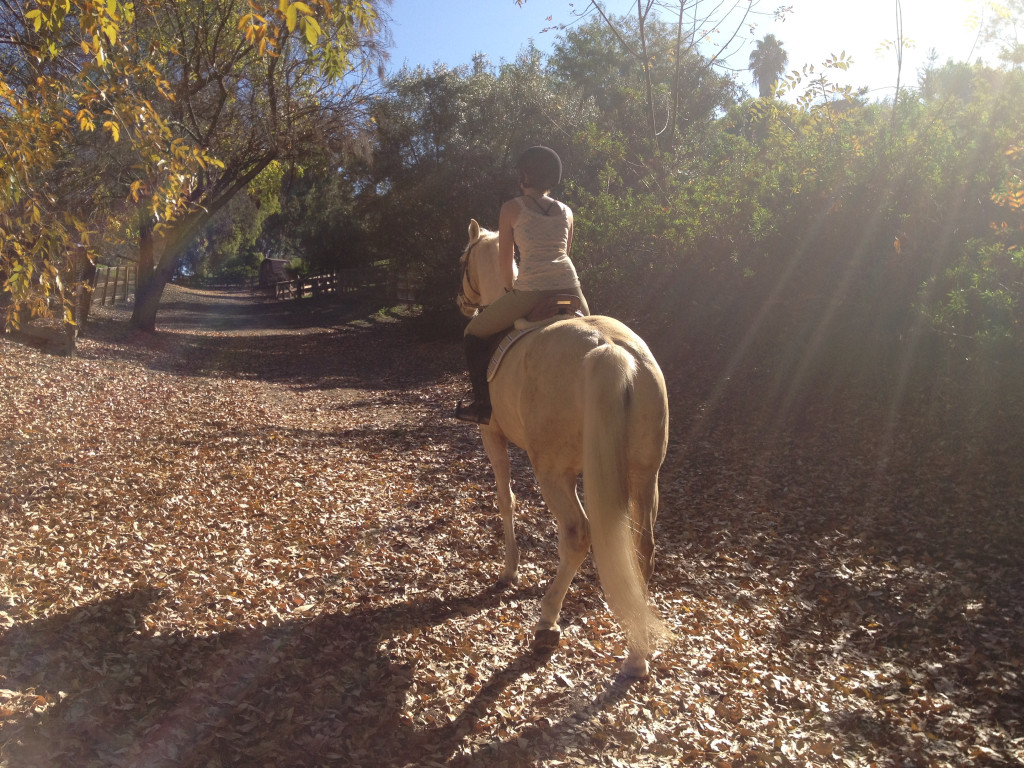 Immediately after breakfast is the ten a.m. meditation in the Ashram. The Ashram is the heart of the Hostal de La Luza, a majestic structure with a flight of wide, volcanic rock steps going up to the double door entrance.  Vicki and I are the first ones there, but then Bruce and Erika show up, and gradually others start to gather.  When the shaman appears, a big man all dressed in white, we follow him up the stairs.
Stepping through the batiste fabric curtains, I am accosted by the sweet aroma of incense. We enter a large dome-like room with relaxing blue walls, and in the center is a table with crystals of all colors, shapes and sizes.  Red cushions and wood stools are along the perimeter, with more cushions in the middle for those who want lay down. At the front is a huge standing drum of wood and leather, a long engraved didgeridoo, and an altar with candles and pictures of spiritual icons. Gentle music is playing and everyone finds their place.
At first I try to get comfortable on a stool next to Vicki, but the floor looks so inviting, that I crawl over to one of the cushions in the middle and lay down with my head at the center, forming a pinwheel with the other meditators that are laying there also. The shaman, a large, compassionate looking man in a white tunic and pants, begins to intone in Spanish.
I am a semi-meditator.  Years ago when Rick and I lived in Kauai and were going through infertility issues, I decided to try transcendental meditation, which besides stress reduction, also promised enlightenment.  We had been trying for a baby for four terribly long years, and as a last resort we began monthly visits to a well-known specialist in Honolulu. For five months our trips to Honolulu had been fruitless.  I never got actualized, but after less than a month of TM, I did get pregnant.
These days I'm too impatient for sitting meditation, but I try to direct my thoughts and be fully present when I do yoga or take walks on the beach.  I also take time to be grateful for all I have in my life.  I was raised in the Christian faith, but the dogma and threat of hell didn't feel congruent to the loving intelligence of a supreme being.  Yet my yearnings for the divine have never waned. Most nights I go to sleep listening to audios of Buddhist teacher Pema Chodron, Adyashanti, Eckhart Tolle, or other spiritual leaders.  None of this, however, has fully satisfied my yearning.  I still wonder about the truth of our existence and what it is to be enlightened.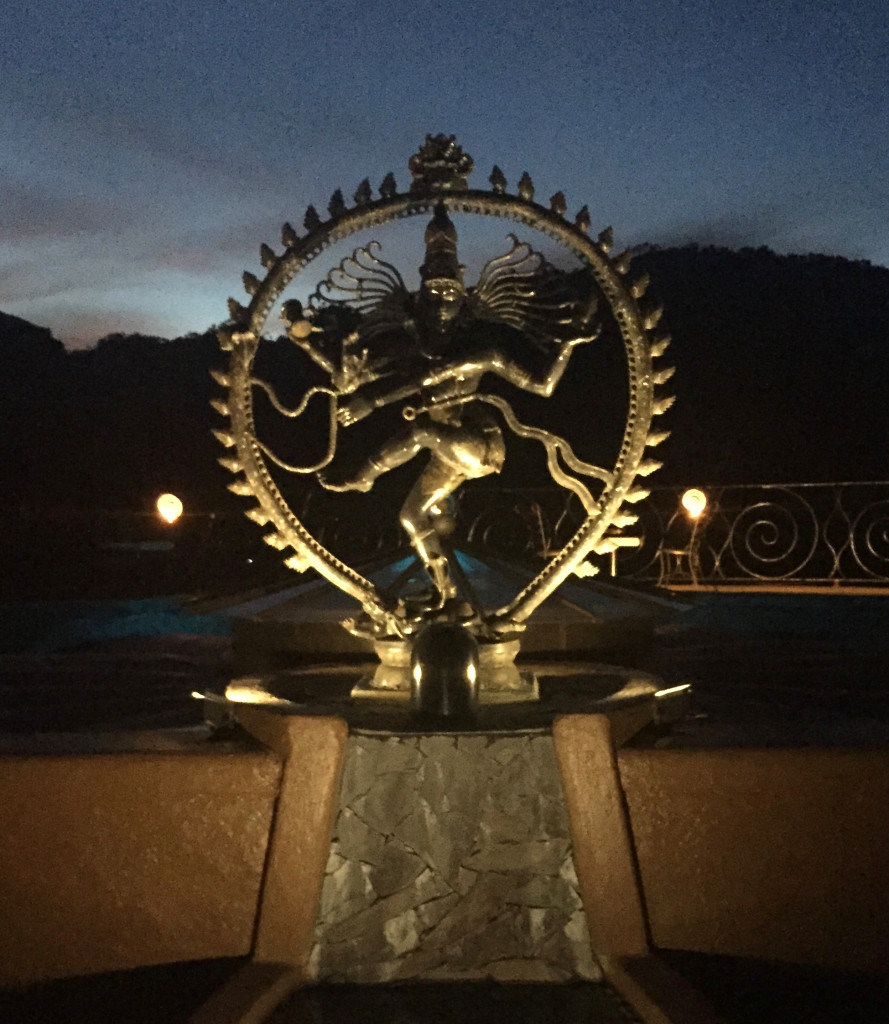 But in the Ashram with everyone there for the same purpose, I feel a sense of comfort and support. Shaman Jose speaks in Spanish, interpreted by a young woman who's voice is very soft. He tells us to to close our eyes, and to realize that the darkness has no beginning nor end. He tells us to breathe deeply, to give thanks, and to be grateful to the spirits.  The music is beautiful multi-tones of OMMMMM reverberating throughout the space, and it is accompanied by the Shaman's rhythmic pounding on the drums.
I let my mind and heart go and I surrender to my emotions. I open my eyes and look up to the big dome ceiling and I sense Honey's big wild beautiful spirit soaring up and through and around the space. The vibrations of the music and the drumming are building in intensity, getting louder and louder, pounding in my being and there is a crescendo of song and emotion. Tears are streaming down my face and I know I love her so much and she is still so much a part of me.  She was so beautiful and smart and funny. While I realize that all things are as they should be, and that she is free now as the stars in the sky, I still miss her so terribly and still mourn her.  She was my soul horse. She still is. We still speak heart to heart.  The music and the pounding continues even louder, as though in unison to my emotions, giving me permission to release.
As tears run down my face, I feel so grateful.  That she was in my life.  For all I have in my life. My thoughts turn to Rick and Bailey, and I feel such gratitude for them, and that they are alive and well and for all that is good and right in the world.
When it is over, everyone slowly starts to stir and get up. We go down the stairs and it's good being in the gorgeous outdoors with Vicki and Bruce and Erika. The sun is out full force and I am still overwhelmed with emotion.  We joke around under a shade tree with huge pea-like pods a foot long, and then Vicki and I decide go swimming in the Sun and Moon pool, right outside our room.
Vicki and I get in the hot tub (the "moon," is actually within the fresh water pool, or "sun"), and we're quietly discussing our experiences so far when Rachel comes and joins us.  We learn that she'd had some extremely traumatic events occur in her youth, but already here she's had incredible insights about life and letting go, which she's excitedly telling us about.  I'm happy for her, but after a while, I need to take care of me and revisit the that peace I came here for.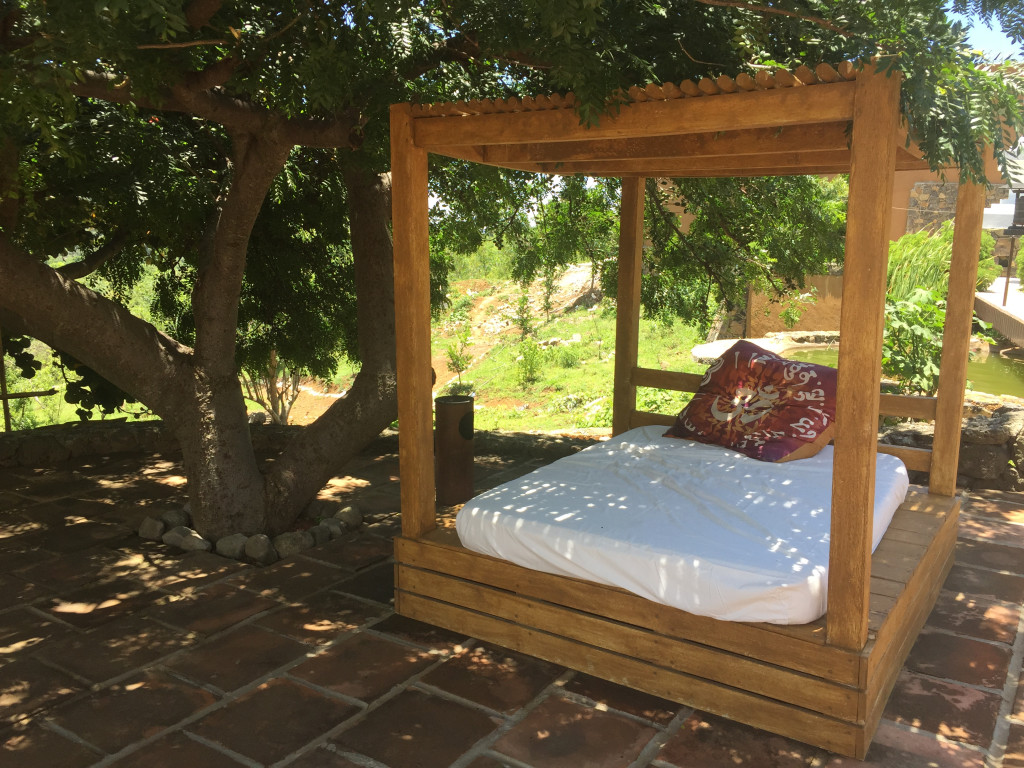 I excuse myself and go exploring to find one of the many places of quietude and beauty tucked away on the property. Down across the access road and near the steps leading to the labyrinth, I find an inviting and shaded daybed where I can gather my thoughts and do some writing.  Later back at the room, Vicki tells me that Guy and Andrea's dog Balaou has taken a turn for the worse. Reverend Guy will be flying home tonight.
The Temazcal Ceremony
At 3:00 six of us – me, Vicki, Steve, Linda, Beto and Andrea – show up outside the entrance to the Temazcal, which looks something like a big brown igloo.  It is shaded by a large Bodhi tree, the same kind of tree under which Siddhartha, later Buddha, was said to have attained enlightenment. Temazcal is an ancient tradition that symbolizes entrance into the womb of mother earth and eventual rebirth.  During the ceremony, the shaman uses the elements of fire and water, as well as chanting and intonations and various natural tools to facilitate spiritual, emotional and physical purification.  The purpose is to rebirth us into a new life of higher consciousness.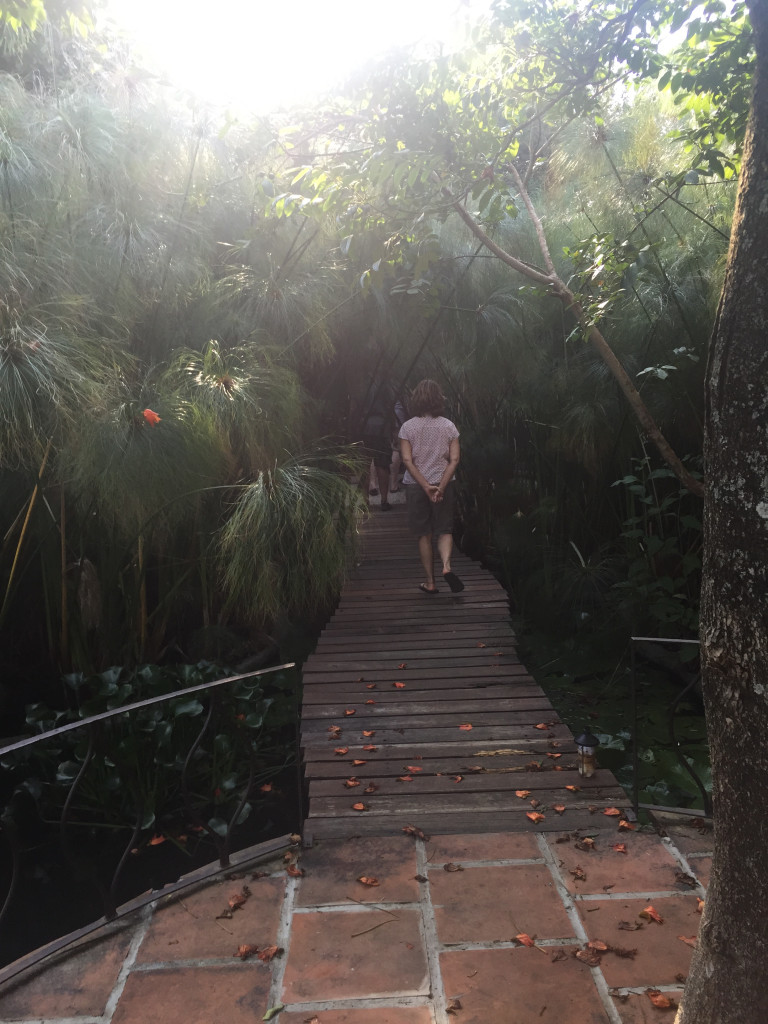 The shaman this time is Andres.  He's a smaller, younger man than Shaman Jose, and he has a kind and gentle countenance.
I first caught sight of Andres last night when our group was up by the Nirvana Yalapa having our initial meeting.  Someone had pointed him down below on the labyrinth.  He was just a small figure, barefoot and dressed all in white, hands in Namaste position, overseeing a group of people about to walk the labyrinth.  At the moment I looked down at him, the shaman glanced up and saw me, just a face in the distance, and he bowed his head slightly in acknowledgement of me.  I was touched by his sweet awareness of me, and felt a strange and instant connection to him.
Before we enter the Temazcal, Shaman Andres has us stand in a semicircle, and he purifies each of us with waves of sage smoke, quietly chanting in Spanish.  Then we crawl one by one through the small opening and into the darkened interior, which is warmed with smoldering, steaming coals.  There are seats of stone along the perimeter and we each find our own.  Andres starts to chant quietly at first, but then more intensely.  He chants to the ancestors, and to the spirits and, I suppose, to our own knowing inside, to help us to let go, to die, to expel, to reach, to cleanse, to purify. We are sweating profusely, and just when I feel I need some relief, he takes branches of leaves and dunks them into pails full of cool water, and he splashes us one by one, intoning something to each of us as he drenches us in the refreshing water. He goes through another stream of chanting, and then he pours cups of water over our heads, which feels amazing.
I drink in every bit of this unique experience.  Images of my mom, new to the spirit world, and my gregarious Uncle Stanley, who died just a year ago, and my dad, who loved me so, gone over twenty years now, come to my mind and I smile, enjoying their memory, their presence. I also think of my grandparents, and their parents, and the generations of ancestors that go far back to antiquity.  Though they are nebulous to me, I honor them, that they lived and died, and through this ceremony are recognized and respected, and called on to be present with us, to share their wisdom. The ceremony continues on as Andres intones blessings, shakes a gourd of stones, and blows on the didgeridoo, evoking indigenous tones of the earth.  After a while, and after cleansing us all again with leaves and water, he opens the small door, letting the cool air rush in.  Quietly, then, he speaks of Balou, sending his blessing to him, saying that dogs are beloved companions to man. I sense so strongly the happy spirit of our Koko excitedly waiting to greet Balou.  Andrea is sobbing. Her sorrow moves me. I can see Koko and Balou  together, running off to play in the cosmos.
Then there is a soft rumbling that grows louder and becomes a deafening roar of what sounds like large stones tumbling all around.  Andres goes to an inconspicuous door near the simmering coals and opens it, and there is a waterfall gushing down a tunnel. One by one, Beto, then Steve, then Linda, then Vicki crawl into the watery opening, and are swept away.  When my turn comes, I get in and sit down, my legs stretched in front of me.  The water rushes all around me, and I'm speeding out of control on the twisting water slide, until I fly out of the dragon's mouth and into the pool, water pushing up my nose and sinuses.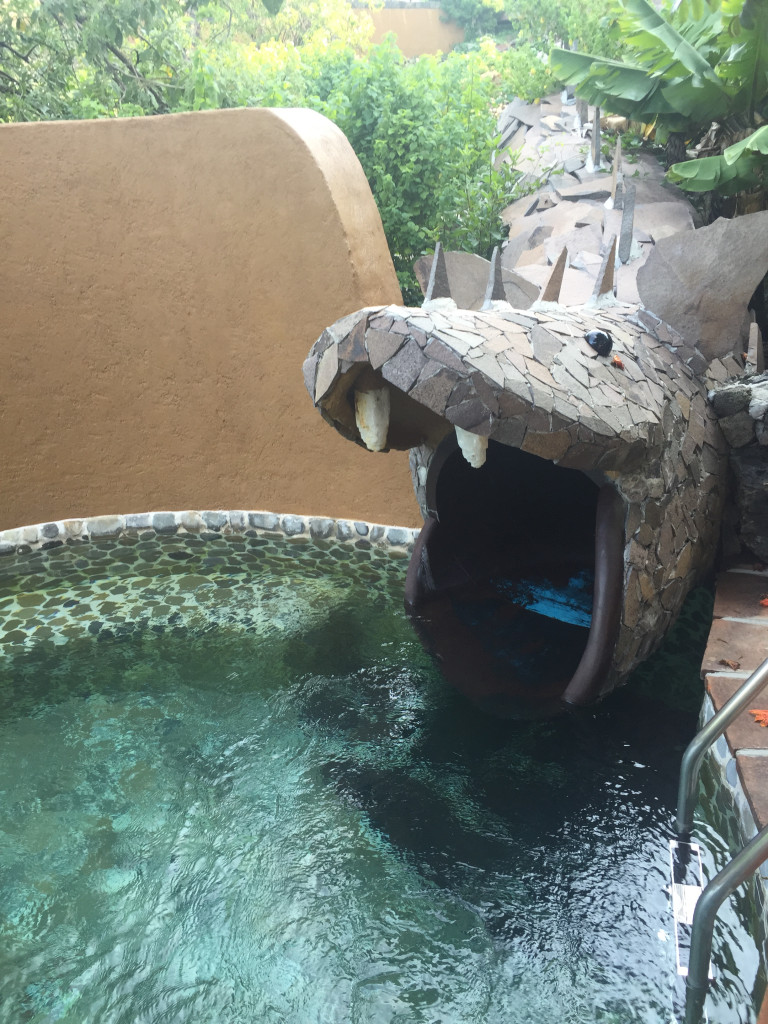 When I emerge, the others are waiting there at the edge.  A moment later, Andrea comes flying out, followed by Andres. We spend a few minutes just relaxing in the cool of the water, then going under a few times. Finally, I climb out, and I'm greeted by someone holding a huge towel and wrapping me in it.  He guides me to lie down on padded beds the ground under the Bodhi tree, and soon we are each being covered with more blankets.  I feel nurtured and taken care of, and so clean and new and innocent, like an infant in a newborn baby ward. Looking up, I see streaks of sunlight glistening through the branches. A curious little bird perched on a twig looks down on us, singing bursts of lovely notes.
I contemplate the experience and feel connected to the ancients who lived long ago who performed and found meaning in this ceremony, who had the desire to touch the farthest reaches of the heavens and the deepest parts of themselves. Since antiquity people have yearned to be in tuned with our loved ones that have passed, to live fully and deeply, to touch the gods. It's who we are as humans, it's in our DNA.
SATURDAY
This is only my third day here, but it feels like we've been here forever.
I'm enjoying the serenity and quiet of the hotel, the immense beauty here, and focusing on things of the spirit. At home I often feel hurried and caught up in my list of things to do.  I get stuck in traffic and stuck in a limited frame of mind.  I wonder where my life is going and what my purpose is. Now that my mom is gone, and my horse, and my work at the Marine Mammal Center is over, I'm at a transitional point in my life. I have so much freedom, yet I don't know how to use it purposefully.
I've been feeling lost.  What do I do with the rest of my life?  I'm sixty-one years old now and I still want to live my life to the fullest. I'm busy being a friend, a mom, a wife, a "nonnie" to my grand-nephew, yet is this enough? Am I enough? I truly believe that touching one person can make the world a better place, yet I've felt heavy and isolated.  Living near the beach, I certainly have great beauty around me, but my self-centeredness makes me forget to be grateful, and I take it for granted. I am depleting my own soul by my lethargy and laziness.
Here I feel invigorated, alive again. Tepoztlan is a magical land of heightened energy and consciousness, supporting the soul with gentle and constant acknowledgements of loving kindness.
The morning started with wonderful yoga in the Nirvana Yalapa.  A beautiful Mexican woman dressed in white gave instructions in Spanish. Though I didn't understand her words, it didn't matter as her smile and spirit were captivating.  During our practice, the sun rose over those majestic mountain ridges and poured through the windows on all of us.
Labyrinth Walk
When yoga is over, Vicki and I hightail out the Nirvana Yalapa, cross over the access road and nearly run up the stone stairs arriving just in time for the labyrinth walk. Shaman Andres, in his beatific demeanor, is standing in the middle of the labyrinth giving instructions, demonstrating how your toes on the smooths rocks will guide you to stay on the path.
Labyrinths, I have learned, were a central feature in the Roman Catholic Church during the middle ages, and people walked them on their knees for repentance or as a pilgrimage to become closer to God. The one at Hostal de la Luz is built atop a pyramid and is a replica of the famous labyrinth at the Chartres Cathedral near Paris, built around 1200.  Labyrinths are once again gaining popularity and are being built all over the world in differing styles. People walk them for various reasons, but one purpose is to replicate life's journey and to lead to enlightenment or transformation.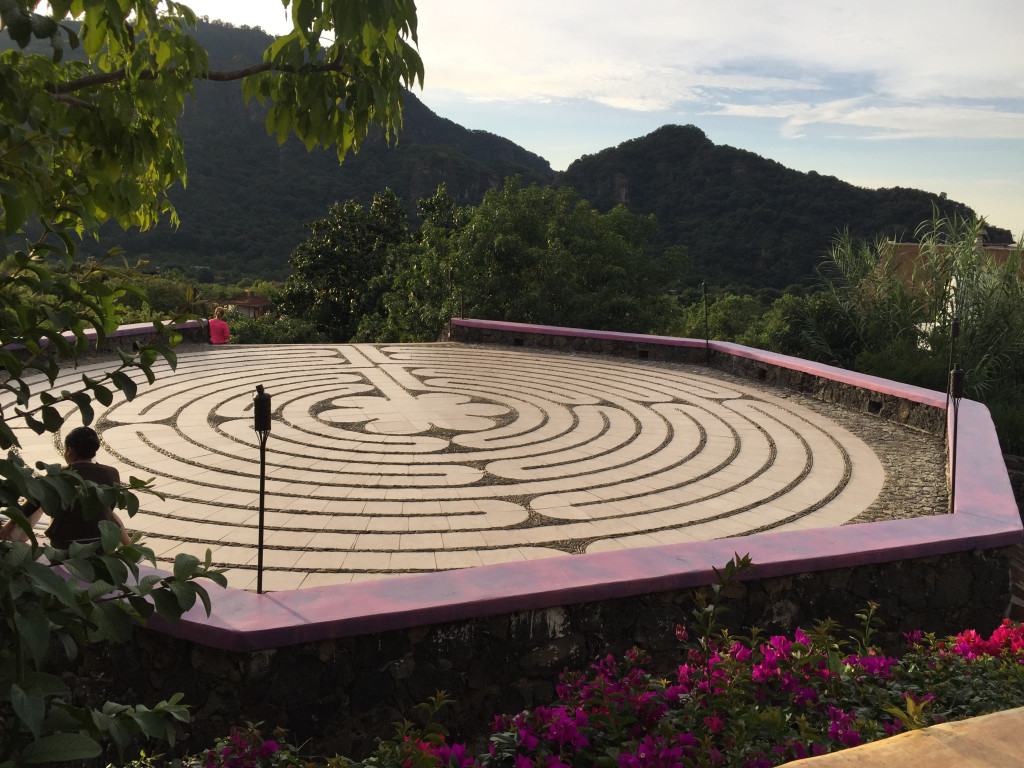 The labyrinth is like a maze but instead of hedges, the narrow paths wrap back and forth and are delineated by river stones.  The tricky part is negotiating the winding path with your eyes closed, using your toes to feel where the path twists and turns. There are about twenty of us on the course at the same time, and I keep bumping people next to me going the other direction.  Sometimes I run smack dab into Vicki, when she comes to a dead stop in front of me.  I find myself peeking – just a tiny bit – and I worried Shaman Andres will see me and send me to the back of the line.
We all eventually end up in the center of the Labyrinth, which I don't realize until I feel Andres's hands turning me around.  Then I peeked again, and see that most everyone else is already here, and now we're all in a kind of standing meditation while Shaman Andres sings and plays guitar.  But then I realize that somebody – Rachel! –  is running and leaping along the edge of the Labyrinth, her scarf trailing in the breeze, singing out in apparent ecstasy. She has absolutely no fear of living outside the boundaries or being judged for that, and that makes me smile.
Later, after a relaxing massage, Vicki and I catch the local bus to picturesque Tepoztlan, a bustling town and vacation destination with a population of about 15,000. Along the way I see a young palomino colt in a meadow with its mother, and he looks like a picture I have of Honey when she was just a few months old.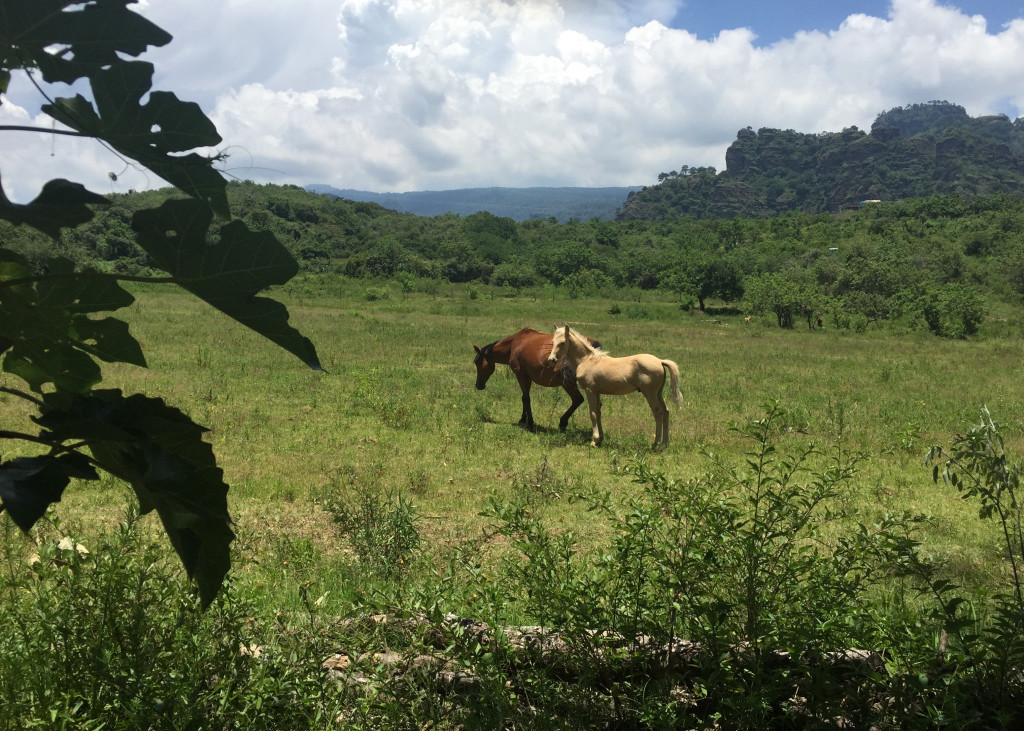 We get off at the end of the line and walk uphill a couple blocks to little shop selling Hindu-style purses, scarves and and apparel.  There we meet Andrea and Linda.  Steve, Bruce and Beto also appear and we joke around and take pictures.
There's a festival going on, so the streets are crowded and lively, with hordes of people perusing booths selling jewelry, clothes, spices and trinkets.  Steve is holding a cold beer which looks delicious, so he leads us through the throngs of people to the stand where they offer variety of brews with spicy seasonings on the rim if you want. As Vicki and I turn grasping our tall plastic cups of Corona, a local man approaches us and gestures that he'd like to take our picture.  We smile and hold out our beers, and after snapping the shot, he thanks us profusely. A lot of expats live in Tepoztlan, mostly Americans and French, but I guess blonds holding beers are in short supply.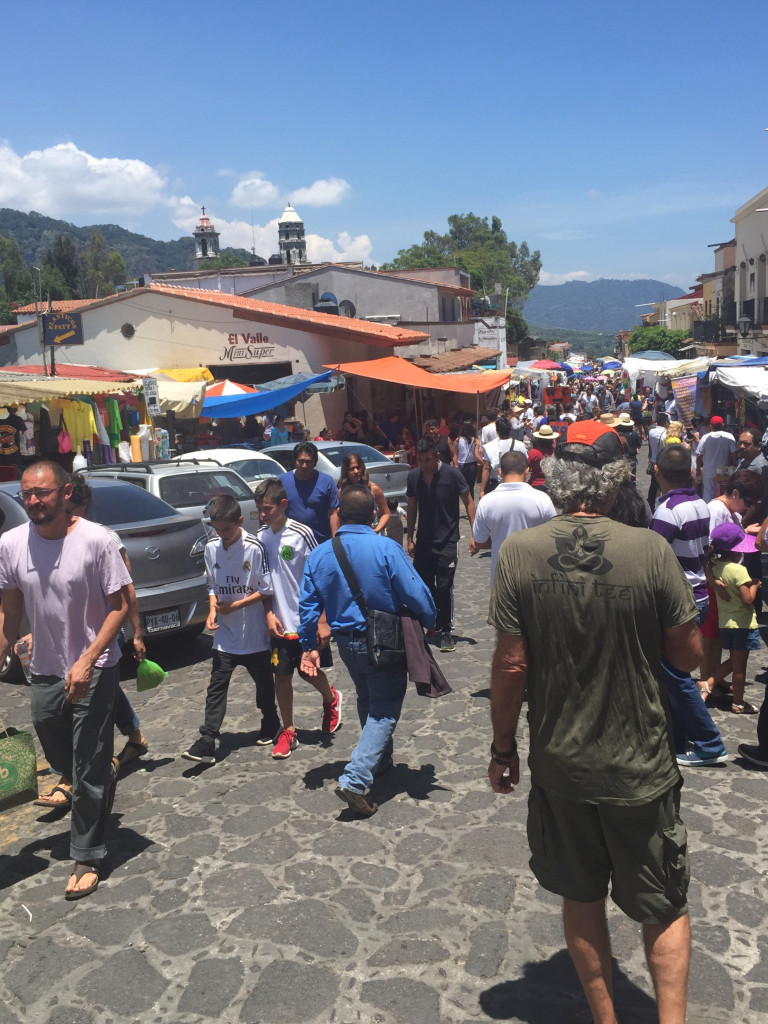 It's very hot as Andrea, Linda, Steve, Vicki and I wander the main drag, dodging cars and pedestrians, looking for the perfect place to to have lunch. Finally, we come upon a restaurant with an outdoor taco bar shaded by colorful umbrellas.  At the far back, it's cool against a huge rock wall, and the waitress comes and takes our order. When our beers and tacos arrive, they taste delicious.
Sunday
Andrea was supposed to leave tomorrow, but she's decided to leave this afternoon instead. Balou passed away Friday night just before Guy arrived home.  It's been a difficult couple of days for Guy, and Andrea feels she needs to be there and support him.  Linda is leaving today, too. I'm glad we're here a couple more days.
This morning is an eight a.m. Chi-Kong class on the labyrinth. Chi-Kong (or Qigong) is an ancient Chinese practice of slow movements to gather up the "chi," – life energy – that is everywhere around us, and bring it into our bodies for healing and energy.  I once did a full weekend Qigong workshop at a friend's house in Capo Beach, and for some reason, I got a tremendous headache on both days. Apparently for me, a little goes a long way.  So I do the Tai Chi / Qigong practice whenever we visit our favorite resort in Desert Hot Spring, Two Bunch Palms, where a mindful and very dedicated teacher leads the practice daily.
Today it's another perfect cloudless morning, and there are about ten of us in a large circle on the labyrinth.  The teacher begins to give instructions in Spanish, and I figure I can just follow along, just as I did in yoga yesterday.  But immediately Rachel pipes up.
"I'm sorry, but I speak English and can't understand anything you're saying," she says loudly.  "Can't we get an interpreter?"
I'm aghast. What does she think this is, a UN meeting? But to my surprise, one of the other guests starts to speak, to interpret as best she can. The teacher says something in Spanish, and the lady describes in perfect English the movements we're going to do, and what part of the body they target –  the heart, the liver, the lungs, the pancreas.  She does an amazing job.  We also perform movements for eternal youth, to help the spine, and to produce more energy overall in our everyday lives.  It's a lovely, slow, mindful practice, with the arms and body moving slowly, bending and twisting sometimes. The teacher imparts bits of wisdom as we go.  She tells us the opposite of joy is every other emotion.
When it's over, everyone in the Chi-Kong group hugs each other as a way of saying goodbye.  I thank the woman who interpreted for us.  "It was really hard," she says.  "Well you did a great job," I say. "You made it look easy."
Immediately after is meditation again in the Ashram with Shaman Jose. I decide to sit on one of the little benches along the wall so I can see Jose.  It's fascinating seeing him speak and play the didgeridoo, and play the crystal singing bowl, moving a wooden stick in a circular motion on it's outer edges to produce ringing tones.  Watching him is a mediation in itself.  I know what he is saying: "Be in your heart." "Be present."  "Have gratitude for everything."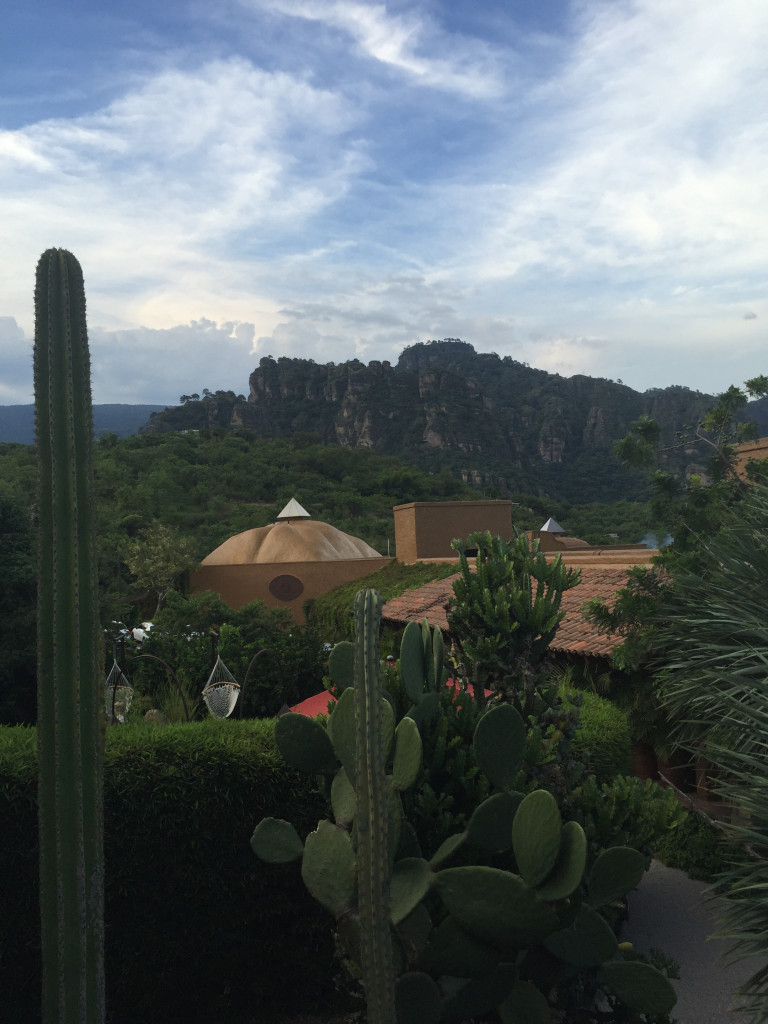 Afterwards is another wonderful massage, another day at the pool, another day lounging, reading, writing, contemplating.  At five, Vicki, Erica Steve, and I catch a cab into town and meet Bruce and Beto at an amazing open-air restaurant at the foot of the rainforest. We order lemonade and Tequila shots while we await our dinners.
Monday        
It is our final day and this morning is my reading with a Mayan Astrologer.
I didn't even think about it when Bruce asked if anyone was interested. Without hesitation I said yes. I've never before seen a psychic, or an astrologist of anything of the kind.  When we were kids, my brother met with a fortune teller and she told him his sister's demise was soon at hand. I was only twelve and this news literally immobilized me with terror.  I'm still here today, but subsequently I've never had an interest in seeing someone that portends a particular future or claims an ability to contact the spirit world.
But in this context, having the reading sounded like an interesting thing to do. I know nothing about the Mayans except that they were an advanced civilization in Central America and were considered brilliant in writing, astronomy, mathematics and calendrics.  On this trip, I've been open to everything.
Both Steve and Linda had had their reading done on Saturday, and I had asked them about it at dinner.
"It was absolutely fabulous," Linda told me. "I learned so much about myself."
Steve had said, "It was like getting a four-year college education. Literally. I told Walberto that he knew me better than I knew myself."  Steve had taped the entire reading on his iPhone, and suggested I do that also.  "I'm going to have to go back and listen many more times.  It was complex. Fascinating."
I am sitting at a small round wrought-iron table under that gorgeous African tulip tree, that overlooks all of the valley below. The sun, now just above the mountain ridge, is warming my back. Sitting on my left is Walberto, a wiry, intense-looking man with dark skin and facial hair.  He's wearing beautiful jewelry, including a huge ring on his forefinger made of crystals. On my right is Bruce, the total opposite.  He's a bigger guy, fair-skinned, with his friendly, off-beat smile and demeanor. I find out later that the two of them frequently work together, consulting with clients via skype.
Walberto asks for the date of my birth – I tell him it's July 24, 1954 – and he flips through his hand-written notebook, which is filled with pages of writing and symbols.  He pulls out a blank paper and begins to draw.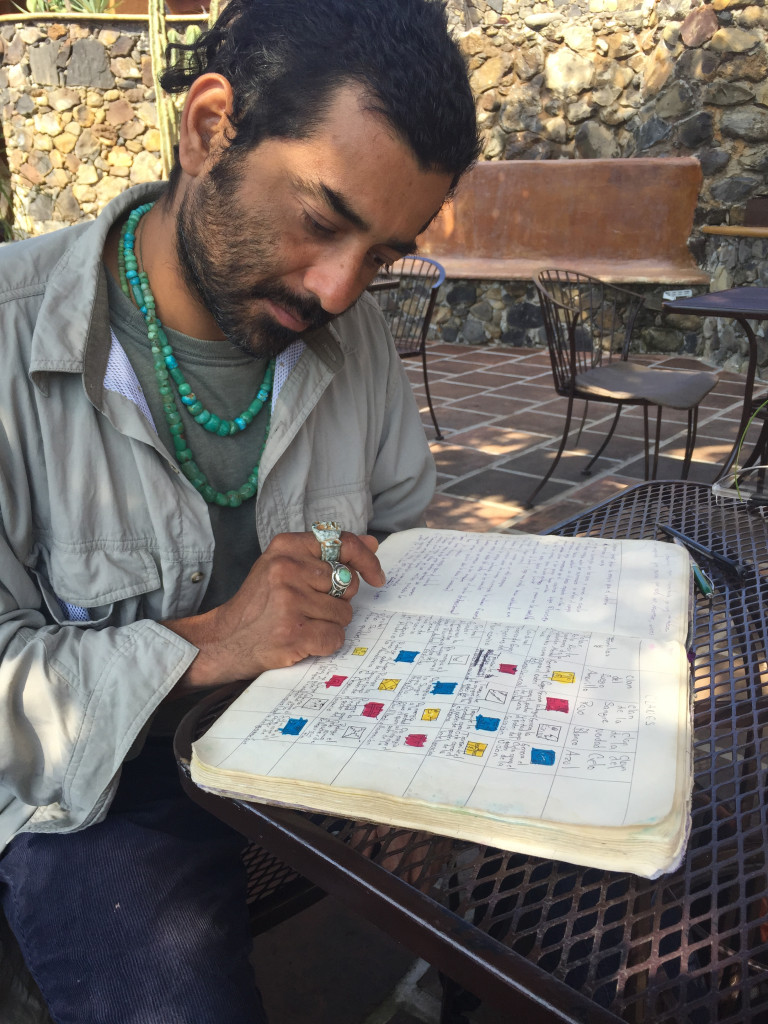 "While Walberto is working that," Bruce says to me, "I'll give you some background."
I find the voice memos app on my phone, push the red record button, and hope to God it will work.
"So what I need you to know is that Walberto is doing what is called your oracle, and that will consist of five seals or symbols based on the date of your birth…."
Bruce goes on to explain that Walberto is converting my birthdate to the the Tzolkin, or Sacred Mayan Calendar.  He says that the Mayans were a very wise and mystical civilization, especially in things having to do with the cosmos and the stars and the planets.
"They believed that every day had its own energetically-charged frequency based on the position of the stars, and the planets, and the sun and the moon, and that the frequency on the day a person is born, determines the gifts and challenges that they will contribute to their tribe and to themselves."
"You will also have your own color," he goes on. "Either blue, red, yellow, or white. It's associated with your central seal."
"Su color es azul," says Walberto in his soft voice, speaking up for the first time.
"I was going to say blue," I say.  Of course I'm blue.  It's the helping color. My eye color. The color that looks best on me.
"El azul es el color de los transformadores," Walberto says.
Bruce says, "Blue is the color of the transformers."
With Bruce translating, Walberto tells me that my dominant seal is the "Hand," which is kind of interesting as Hand is my husband's last name, though I've always used my more cumbersome maiden name, Padgalskas.  The Hand, he says is curative, helping, healing, and that I will best manifest my essence through creative use of my hands, like painting, or gardening.
"Or writing," he says.  I was waiting for him to say writing. Writing has always been my work, my form of expression, my motivating force.
But I'm also a helper.  It's important, I think, to help my friends, when they need it, and also my family, like my mom, when she was alive. I make myself available for them.  To go to movies and shopping, and talk on the phone … or sometimes even to have martinis.
Walberto continues. He says there are twenty seals (mine being the Hand) just as there are twenty toes and fingers.  He says there are also thirteen rays of the moon – thirteen articulations – that further define the tones of those symbols.  So the twenty seals times the thirteen articulations equals 260 days on the calendar, which correspond to the 260 symbols.
"Porqué estoy explicando todo esto?"
Bruce translates: "Why am I explaining all this? In Mayan astrology there are only three symbols out of the two hundred and sixty that have shamanic frequency."
"Mano Lunar, Mano Resonante e Mano Cristal," Walberto's voice is low and quiet.
"The Lunar Hand, the Resonant Hand and the Crystal Hand."
Suddenly I'm confused at this abrupt turn. "Within the Hand?" I ask Bruce.  "Within my symbol, the Hand, you mean?"
"No listen," says Bruce, a little impatiently, though I'm sure he didn't mean to be. "Of the two hundred and sixty symbols, there are only three that are shamanic symbols."
He listens a moment as Walberto goes on in Spanish.  Then Bruce translates while Walberto is still talking, sometimes pausing briefly, to get what he's saying.
"So, other than the healing power, you can also connect with the spiritual world, if you have one of these three symbols.  They heal, they work with the spiritual world, they are able to work with the plants, and," here he pauses, and in Spanish he asks Walberto for clarification, "and they are the people that can perform miraculous healings."
"So," I jump in, "are you talking specifically about my symbol, the Hand?"
Bruce laughs, straightening his glasses. "You are so quick, honey," he says. "Listen. Listen."
"Sorry!" I say. "I'm just wondering if this is applying to me!"
"Yes, we're getting there. Coming to a theatre near you."
He's a crackup. Who else could make this lighthearted and fun?
"Okay," continues Bruce.  "Look here," he says pointing at the middle symbol on the paper that Walberto has drawn out for me.
"The Hand," I respond.
Walberto is talking some more. His voice is soft but intense.   The one word I recognize that he says a few times is "shaman."
"And that crystal," Bruce says, "represents the ring or bracelet of the shaman."
Then he asks me, not interpreting now, "Lisa, do you know what a shaman is?"
I pause.  I think of Shaman Jose and Shaman Andres.  They seem to be men of great knowledge of the ancient rituals and customs. They are loving and spiritual beings.
"Um … kind of."
Walberto speaks for a while and Bruce again interprets.
"It's a tribal healer. Before western world came, there were many tribes and each one had a tribal healer."
Then he asks Walberto, "Ella es…?"
"Mano cristal," says Walberto in a way that sounds majestic, beautiful.
"Numero?"
"Doce."
"You are the Crystal Hand," Bruce says. "Your symbol is the Hand, and your number is twelve, which is the Crystal. You are here to manifest and to help."
It is quiet for moment, no one talking. Then to Walberto, Bruce asks, "Ella es entonces shamanica?"
"Si, Mano Cristal," Walberto says, sighing, and then continues speaking at length in his quiet but urgent manner.
Bruce starts to translate, but then all a sudden, he pauses, and laughs. "Look at my skin!" He's looking at his arms, which apparently have goose bumps. "Mirar a mi piel," he says, and Walberto smiles. He rubs his legs "Even my legs are like that!"
Then he takes a breath and goes on.
"You are shamanic, one of only three shamanic frequencies. You are the energy that cures and heals."
And then he says something that sends me for a loop.
"And you have the gift of miraculous healing."
I talk to Walberto and Bruce for another hour, at which point I tell them I need to go to the Ashram and meditate on all this. I stand up, thank them, give them hugs, and hurry off. I climb the stairs to the Ashram, and slip inside the curtains. It's the middle of a guided meditation, and there are about ten meditators, some sitting, some laying, all unmoving. The OMMMM music is playing and Shaman Jose is playing the didgeridoo.  Finding a pillow in the middle, I lay down and lower my head on it. I breathe deeply to clear my mind.
It feels so good to lay here, to feel the vibrations and listen to the music. But a strange energy is pulsing through me. What the hell? I wonder. What the hell went on back there?  I take slow deep breaths, and slowly settle into Jose's gentle invocations, but I know something profound just happened.  Hearing those words, I'll never be the same.
When the shaman rings the final bells, I slowly get to my feet. Shaman Jose is at the back of the room, and as I approach him he smiles.  I go up and wrap my arms around him, and he envelops me and holds me in his huge body, giving me a long warm hug that feels like heaven itself.  He holds me for the longest time, before he finally lets me go.  Wow.  So that's how a hug from a shaman feels. Then he looks into my eyes and smiles so lovingly.
Hike to the Pyramid      
It's so incredibly lovely here in the rainforest. It's hot outside, but here we are in a cool, magical world of ferns and philodendrons, shaded by a profusion of trees of all shapes and sizes, each one expressing itself with branches and fingers pointing this way and that, as though caught mid-movement in a botanical dance.  Vicki and I are climbing the rocky stairway to the pyramid, El Tepozteco, and the pathway goes up, and up, relentlessly, unforgivingly. We've been climbing for almost an hour.  The sunlight pokes in rays through the leaves.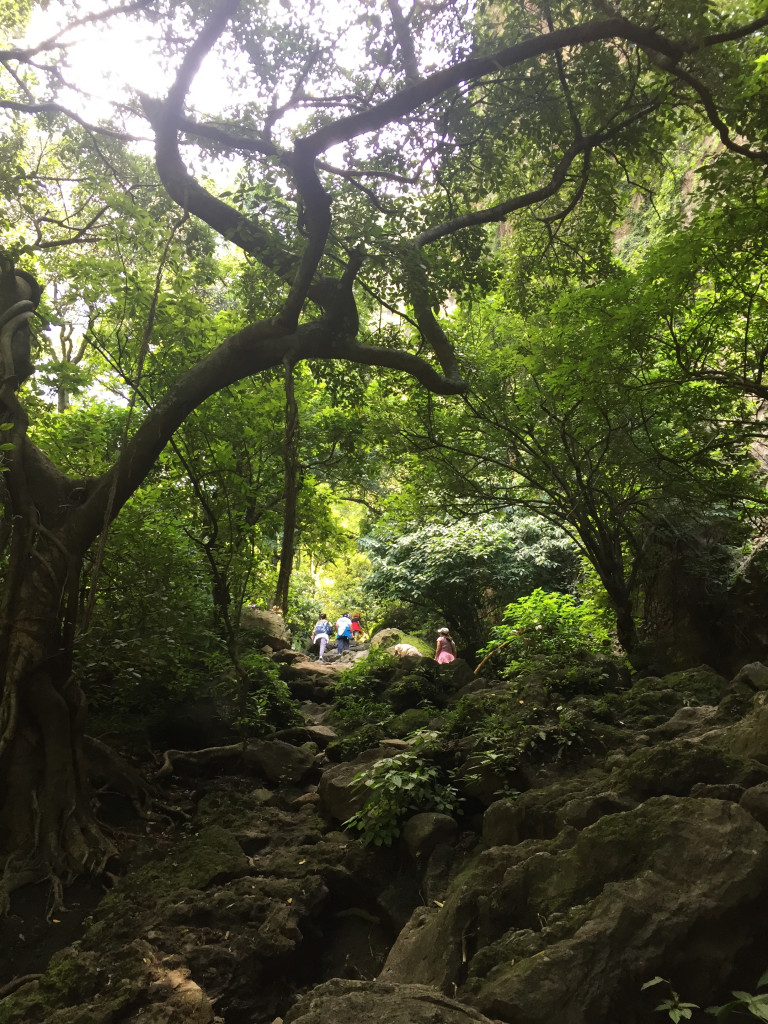 I'm trying to keep my mind quiet, to not ruminate, which I have a tendency to do.  But is it impossible? What Walberto told me will never make sense – it's simply irrational.  And yet, oh God, they planted this seed. Could it be true?
Their words come back to me.
"Walberto says that he's been told by his teachers," Bruce had said, "that when he meets people like you, with this shamanic frequency, it is his job to make sure they are clear as to who they are and what their gifts are.
"I can't express the importance of this," he had continued.  "Out of two hundred and sixty symbols there are only three that have this energy. With just a thought, you can heal someone walking down the street.  This is only you. Not other people. This is your gift specifically. People like you are the transformers of the world."
Vicki and I stop near a moss-covered boulder to rest, drink some water, take some pictures.  I wonder if I'll ever be able to tell her, or anybody, about the astrology reading. Who but those that are likewise on an esoteric spiritual path – who are open to the strange possibilities of the universe – would give it credence? Bruce emphasized that, according to the Tzolkin, everyone has their unique and important gifts to offer humanity, yet I can hear Walberto's soft voice saying, "Usted es uno de los transformadores."
You are one of the transformers.
Anticipating my reluctance, he had said that in order to get in touch with the Crystal Hand and my healing essence, I would need to access my "hidden" symbol, the magician, or the spirit world, and use meditation as my tool.  "It will come from within, from your own wisdom," he'd said.  "Not from anyone else telling you how to do it."
Bruce had added that I should take it slow.  "A crystal takes thousands of years to form. There is no hurry.  Meditate. Use your hands. Practice your gifts."
I clear my mind. I focus on the hike, making it my meditation. I am pushing my body, searching for the correct path among the boulders and rocks, taking one step up and then another. My muscles are beginning to strain and ache.  We are heading up into narrow canyon between two sheer cliffs that are unbelievably close to each other. Through a clearing in the trees, we look back and see another huge rock formation, erupting from the valley like a tall, slender, fern-covered volcano. It has the comedic face of a gremlin on a totem.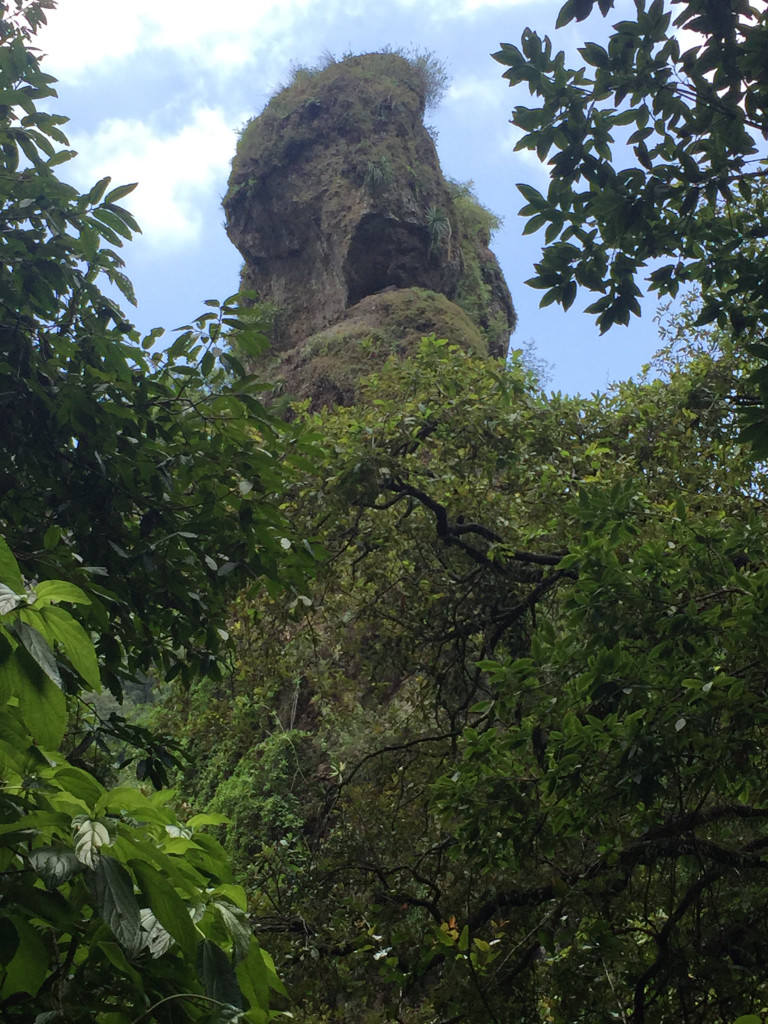 I can't stop my mind. We know there are fantastic wonders and complexities in creation. There is so much we'll never begin to comprehend. Yet these people, these very advanced Mayan astronomers and mathematicians and philosophers, approached life from a very different perspective than we do: from the realm of the spirit world, of the mystical.  In our western culture, we've totally lost that part of ourselves.
And yet.  And yet. There are those that are purported to possess this amazing ability. Even in our culture.  Miraculous healings are said to have occurred.  Is it not truly within the realm of possibility? Do I not believe in the possibility that even the tiniest of miracles could happen? I can't say no to this question. For my friends that need it, for all of humanity that needs it.  I think I must believe in miracles.
I also know that transformation and healing can be subtle, unseen, unknown. If I am a vehicle of light and love, or if I aspire to this or embody this, perhaps I can have a hand in helping myself or someone to better happiness … and therefore, to better health.  Perhaps I can be a conduit in some unseen way, to help remove blocks and set up a chain of self-healing.
Perhaps this is something that anyone can do.  Anyone that so desires, and has the right amount of faith, of commitment, and of awareness. Quite possibly that special power or gift is simply great, overpowering love.
I can't deny that everything has fit so perfectly on this trip. It's as though the universe took everything away and brought me to this point, and to this place, and to these people, so that I would be open to these amazing possibilities.  To know that, like the long process of creating a crystal, the time is now to know these things.
In the end we make our own reality.  We can embrace a reading, or a suggestion or some advice … or we can ignore it.
I think, why not embrace it?
Vicki and I are sitting atop El Tepozteco, a small temple built to the Aztec god, Tepoztecatl. Below us lies all of Tepoztlan, which prior to this pyramid was ruled by the Mayan plumed serpent deity, Quetzaloatl. There are hills, and mountains and the sprawling town, and fertile valleys. It's breathtaking.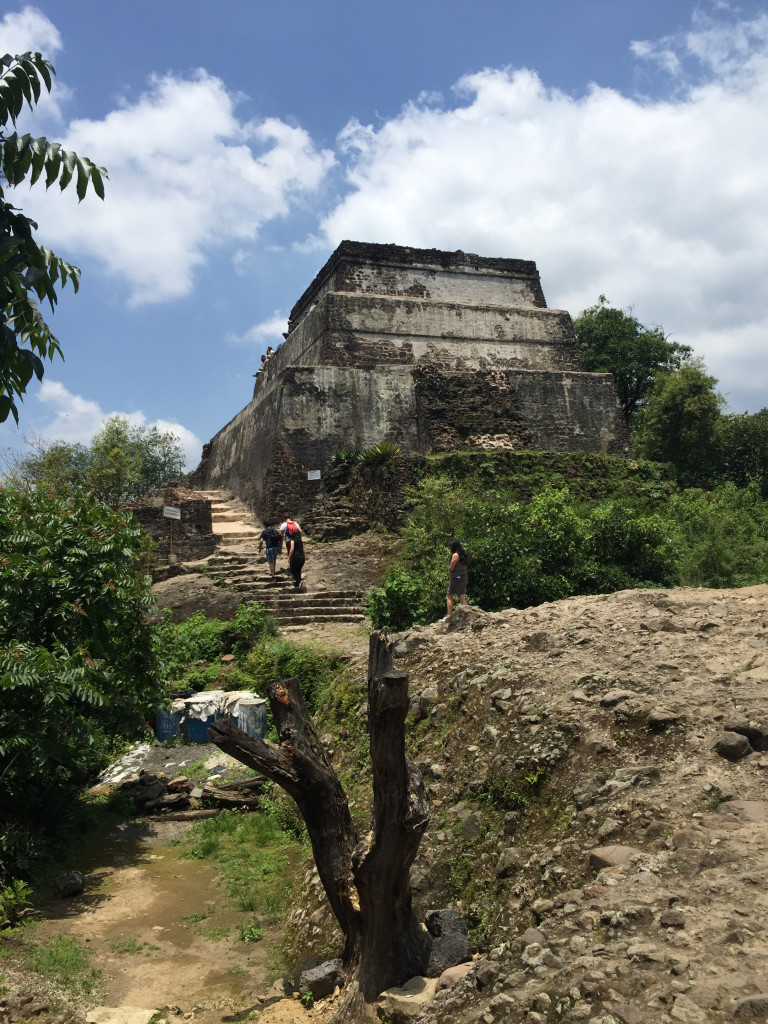 This valley, this sacred land, has gone through many incarnations. Many civilizations, many changing realities.  Now it's a popular tourist destination, named a "Pueblo Magico" by the Mexican government. A lot of American and French live here. It is inexpensive and lovely and offers a simpler, more basic way of living. It's a spiritual place if you choose to see it that way, it's a heightened vortex of energy.
Tomorrow early we go home. It's back to real life.  But I've changed.  I got what I came here for, to find my higher self, the nobler side of me.
Everybody at some point, I believe, wonders what this is all about and why we are here.  Is there more? When a person or animal you really, really love dies, are they still around somewhere in spirit? Can we ever truly know for sure? Can we ever truly know with certainty what God is, what the soul is, what the spirit is, and if any of it really exists at all?
Yet, it feels so much to me that we are one universal and intelligent energy that is somehow, miraculously, connected in perfect harmony, and that we can be part of it and enjoy it if we fully open ourselves to it.
All I know is that in Tepotzlan, and by way of immersing myself in all the different experiences and ancient rituals and ways of seeing that it offered, I accessed something within myself that is well beyond what I could ever have imagined. I've been awakened to a gift that I've had all along, that I've practiced perhaps in subtle ways without even realizing it.  Just knowing this now, the awareness of it, puts a new perspective on the direction of my life. Having found meaning, a purpose – ordained from the stars no less – fills my being with joy.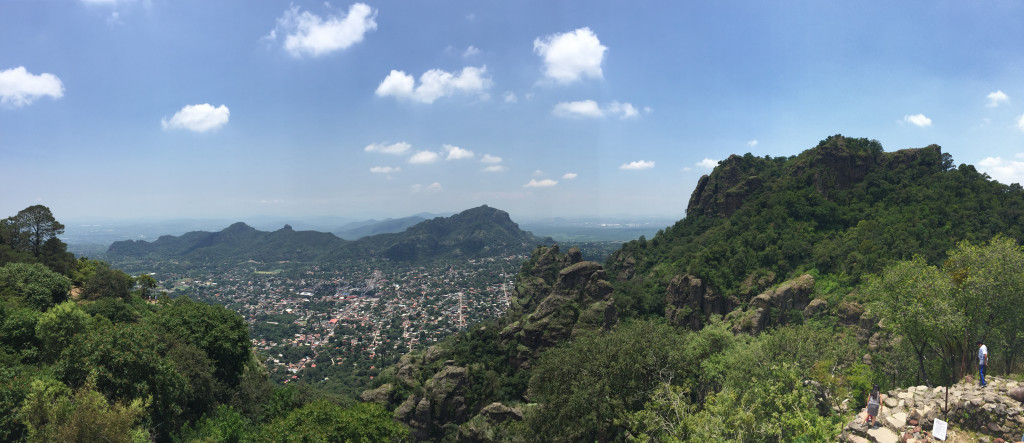 copyright 2016 by Lisa Padgalskas Hand