Horses and Bison and Women:
Adventure on Catalina
It was fast becoming a worst-case scenario. We were only fifteen minutes into our first ride on our long-awaited Las Caballeras Catalina trip, and already things were going south. I was sitting astride my half-Arab palomino mare, Honey, and despite her best efforts to be calm, I could feel the tension in her muscles mounting. I could hardly blame her. A big black bison lay nonchalantly on the trail twenty feet ahead, his huge head crowned with two devilish horns. The three horses ahead of us were shying and whirling and refusing to continue on.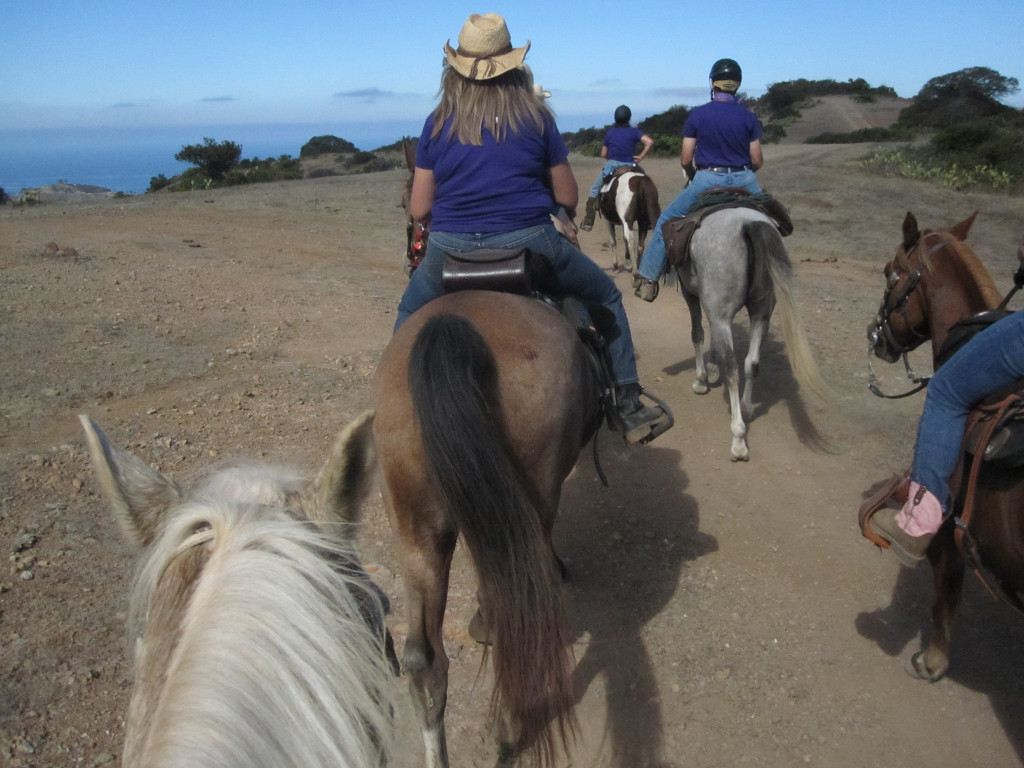 About ten riders, including my friends, Jen, Marianne and Eugenie, had somehow gotten their horses past the bison. But Honey and I had ended up among the last ten horses and riders of the group, and as we approached the beast, it was looking more and more intimidating, like a big angry Hunchback of Notre Dam. The large grey horse in front of us was really panicking and backed right into Honey, causing Honey jump to the side and attempt to rear. As I fought to control my thousand-pound animal and keep my balance on top of her, it crossed my mind that I'd been crazy to believe I could do this. I'd be lucky to survive this trip – or the next five minutes – in one piece. If at all.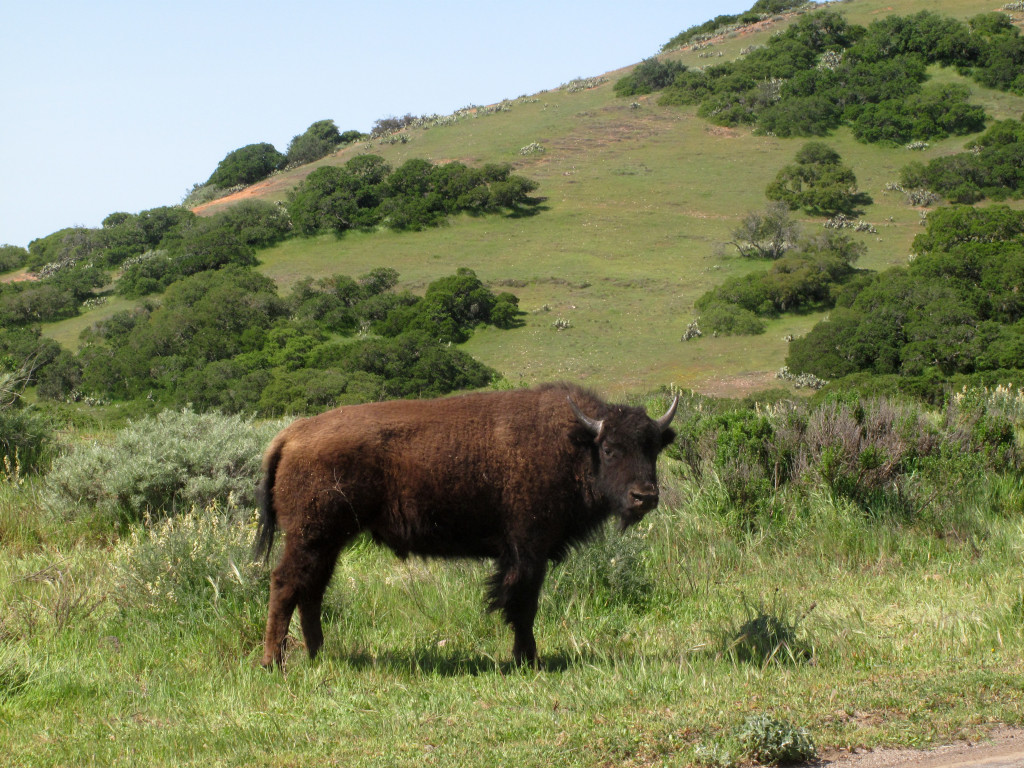 Things had gone a lot smoother when I'd done this trip a year ago. Then I had opted to lease a horse so I could see what this adventure would be like… and to see if it would be safe to bring Honey the next year. That horse had been a well-mannered chestnut named "Sweet Marie," who lived in every sense up to her name. She belonged to the head wrangler who cared for the horses on the trip, and the mare was very calm and steady, having had plenty of experience traveling and camping in various environments.
Honey, on the other hand, was very comfortable with the familiar trails of Nellie Gail Ranch where she was stabled, but being half-Arabian, she could get excitable in new situations and downright out of hand if something truly scared her. I knew this trip would push her outside her comfort zone. For one thing, she would travel on an ocean barge from San Pedro to the Isthmus of Catalina (while we prayed the oceans were calm for the six-hour trip), and once at the campsite, my finicky little princess would be tied to a rope for five days and five starry nights along with sixty other stomping horses. Then she'd be expected to negotiate the hilly trails on Catalina, which, granted, had scenic oceans vistas at every turn, but were tough and often steep, with rocky, unstable footing more suited to a mountain goat.
This would be a challenge for Honey – and for me – but I figured we could handle it. However, I hadn't anticipated the bison.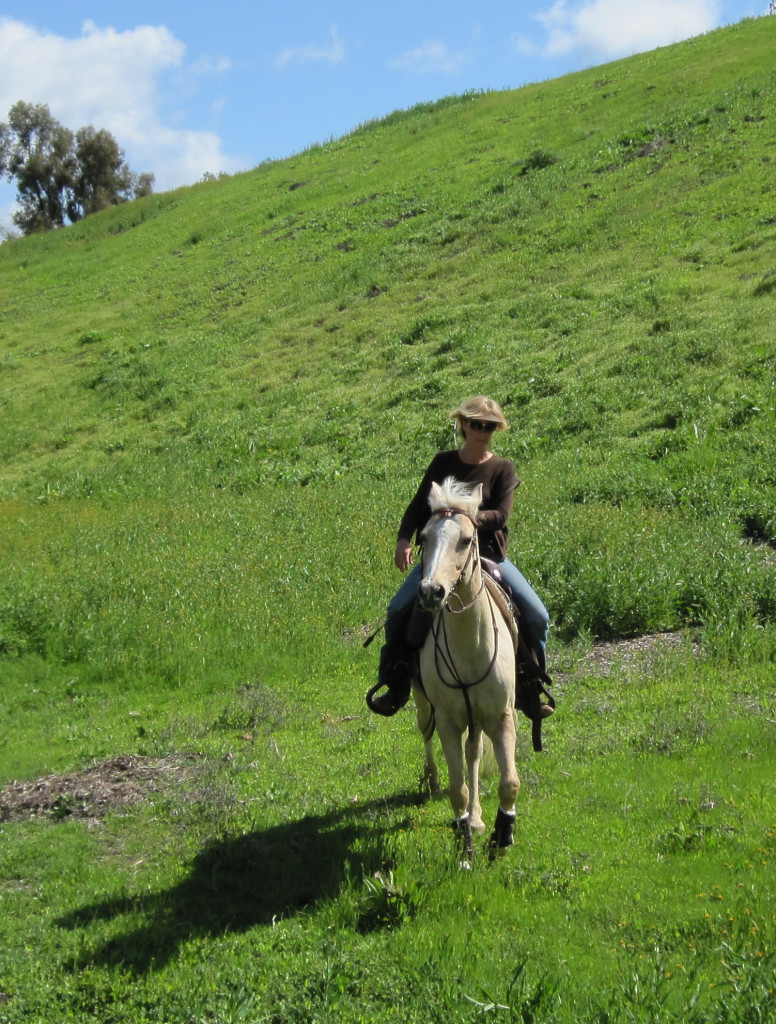 Like so many little girls who seem to possess this innate and universal love for horses, I dreamed of having my very own horse some day. I had few opportunities to ride when I was young, but when my Godmother acquired a horse when I was in my teens I got ride with her on occasion on the sandy riverbeds in Whittier. But then I went off to college, and into a sorority and had my whole future to think about. My dreams to own my own horse became all but forgotten.
It wasn't until much later in my life that Honey literally fell into my lap.
My daughter Bailey was twelve when she suddenly announced she thought she might have an interest in horses. I let it pass because we'd already given her lessons and tried to get her involved. But soon after she said this, I heard her in the next room calling barns in our area in search of a job. I was surprised when one of them called her back. It was Mickey Hayden Show Jumping at Nellie Gail Ranch, and they were offering her a teen horsemanship program – cleaning and putting away tack, and doing various chores around the barn – in exchange for Saturday lessons.
That's where we met Honey.
We passed her stall every time on the way to the Hayden barn, and she was so friendly, hanging her head out of her stall to greet everyone that went by. She was a gorgeous, a light palomino with a flowing white mane and a thick luscious tail that fell all the way the ground. She was a western pleasure horse, not a jumper like the horses Bailey rode, and I ended up taking lessons on her when Rick and I wanted to brush up on our riding skills before going as a family to a guest ranch in Santa Ynez Valley. I met Honey's owner, who was unable to ride because of back problems, and soon I had signed a full-time lease on her. It scared me actually because in my soul I knew there was no turning back.
When I had first ridden Honey in the lesson under the supervision of her trainer, Becky, I was amazed that this young horse, only five years old then, was so obedient – walking, trotting, cantering and doing everything so perfectly when asked. But when I attempted to ride her by myself for the first time, Honey was a totally different horse. She had a mind of her own, I found out, and without Becky around she wanted me to know she was no pushover. She balked at going in the arena and purposely defied me, refusing to do what I asked. She insisted I prove myself if I wanted to be her leader. It took me some time to learn how to do that.
Yet, we connected immediately. Not only was she beautiful and smart, but she had a huge personality and was a lot of fun, once we got used to each other. She learned tricks easily; I taught her to bow and smile, and she even gave kisses… for treats, of course. When her owner had to sell her, I asked Becky if she thought I should buy her.
"You'll learn a lot from this horse," she told me. "She'll make you a better rider."
So I made the plunge and without really seeking it, my childhood dream was fulfilled. Yet I didn't realize the challenge I was facing. Nellie Gail is an upscale equestrian community with gorgeous trails abutting fabulous backyards with shimmering swimming pools and manicured gardens, but there's also a constant barrage of leaf blowers, tree trimmers, barking dogs and kids on trampolines. I really wanted to take her on the trails, but in the beginning, Honey would spook and leap to the side, or suddenly start backing up when she didn't want to go on. Then she got into the bad habit of rearing, which I particularly didn't like. Finally, despite my trainer's admonitions to the contrary, I decided to dismount when she acted up and I'd simply lead her past the problem spots. Honey liked this plan, and was happy for me to take the lead. I liked it too, because it cut my risk of serious disability. Soon we could ride on past those scary places, and our comfort level on the trails went up exponentially.
After many, many miles on those trails, Honey gradually became the most bomb-proof horse at the barn. Certain flat or slightly uphill trails we could run full blast, and it was incredible fun for both of us. Other times, if I felt lazy, I would close my eyes and lay my back on Honey's and let her take us home. We started taking day trips to the beach or weekends away to go horse camping, and Honey loved it; she had an extra spring in her step when she went somewhere new. One of the ladies at the barn told me about the trip she and her horse had taken to Catalina with Las Caballeras. I vowed some day I would take Honey.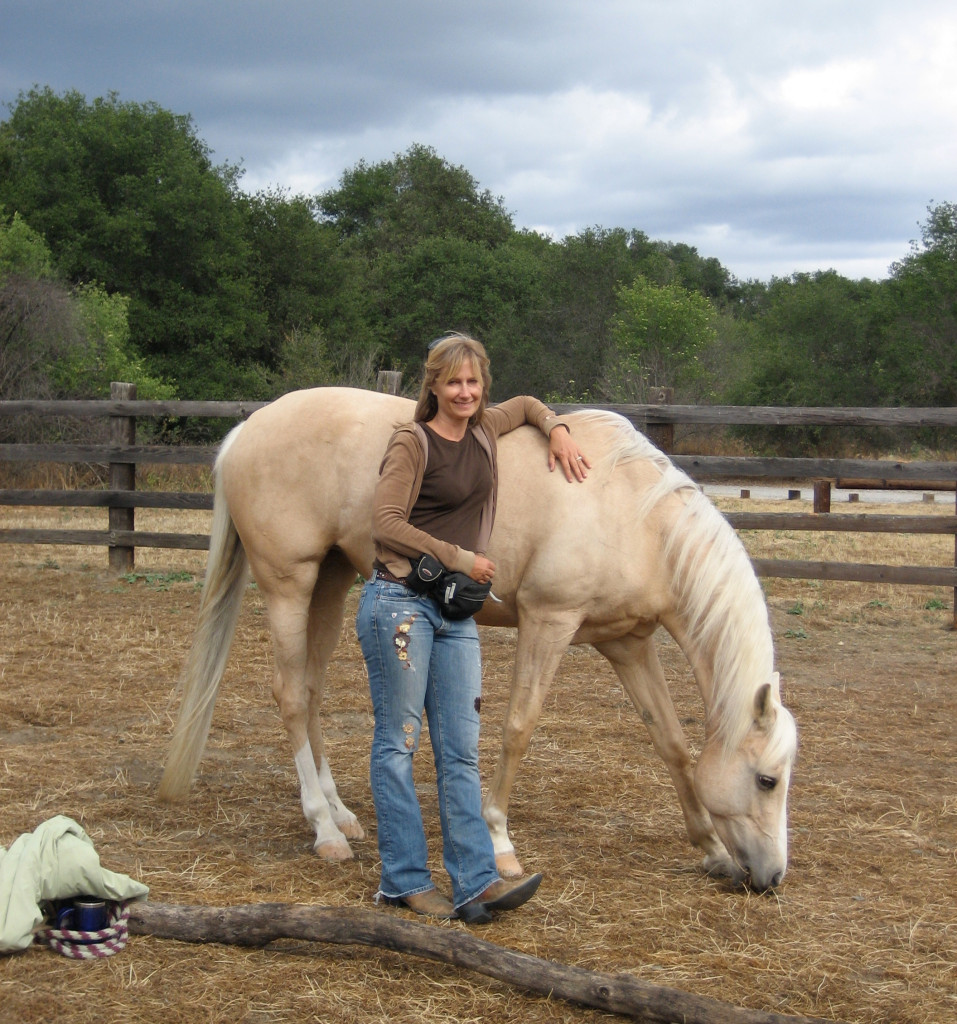 Honey had fared amazingly well on her barge trip across the channel to Catalina. Gail Murphy, one of the original Las Caballeras members, had picked her up from Nellie Gail on a Sunday in early October in her seven-horse trailer. After collecting several more horses, she had delivered them that evening to the Rolling Hills Equestrian Center, joining all the other horses awaiting to make the trip. Just before dawn the following morning, the fifty-odd horses were loaded stamping and snorting back into their ten or so trailers of various styles and shapes, which then caravanned to the San Pedro docks. One by one the trailers drove onto the big flat barge, along with the catering trucks, supply containers, and portable toilets and showers. Soon the large floating platform, crammed to the max, pushed off with its precious cargo, and began its cumbersome, six-hour, twenty-three mile journey across the channel.
Meanwhile, the women crossed the seas separately via private charter boat, we and celebrated our upcoming adventure with sweet pink vodka cocktails that Eugenie had provided in bulk. We got off the boat around noon at the sleepy little Isthmus town of Two Harbors, and we'd ambled onto the sprawling outside deck of the Harbor Reef Restaurant where we'd lunched and imbibed in the traditional island favorite, "Buffalo Milk," – a potent and tasty concoction of kahlua, half & half and vodka – as we'd excitedly awaited the arrival of our trusty steeds.
As the time drew near, Eugenie, Jen, and I, and Jen's friend and "FYG" (First Year Guest), Marianne, decided to make the 15-minute walk over the isthmus to a hill where we could watch as the barge pulled in.
"There it is!" someone yelled, pointing. And indeed there it was, the barge just a spec in the vast ocean. Gradually it grew larger, until we could make out the trucks, trailers and containers on the platform. Guided by a little tug boat at its side, the barge finally docked. Within moments, the trucks and trailers rolled off, and a few minutes later they roared right past us. We cheered as they went by, a lump rising in my throat.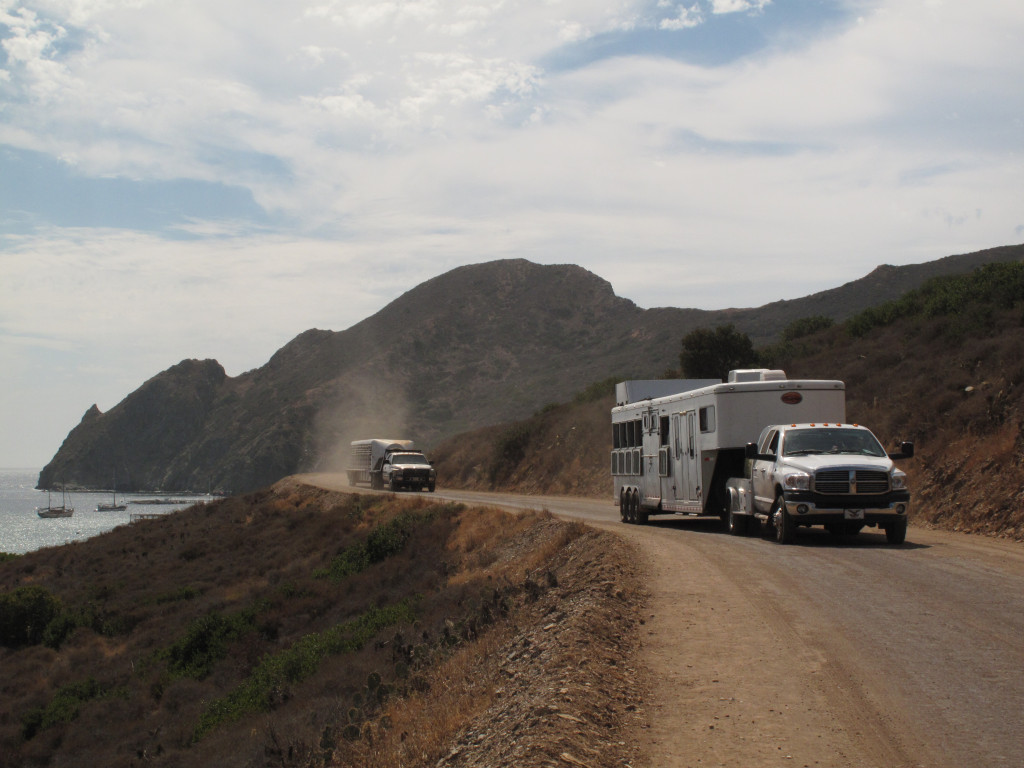 By the time I walked back to the staging area in the skinny neck of land that connected the north and south parts of Catalina, the horses had already been unloaded in a large open area shaded by towering eucalyptus trees. Searching around like a mom looking for her child, I found Honey at the far end tied to her line, happily munching on hay. She swung her head over to me and nickered, and I threw my arms around her neck. It felt so good to hold onto her and to know for the moment that all was well. She continued eating, her favorite thing in the world to do.
The horses would be spending the first night there, cared for and watched closely by the wranglers. The women would take a thirty-minute bus ride to our campsite at picturesque "Little Harbor" cove, set up our tents and return the next day to saddle up, and ride oue horses back to camp. When I returned to Honey the next day, she had a bloody, oozing wound on her rump where she had been kicked during the night. One of the wranglers told me Honey had started it, gotten the other horse first. No doubt about it, she was a feisty one.
Las Caballeras is one of only two groups given permission to barge their horses to Catalina each year and ride the spectacular private trails that traverse the entire island, with scenic ocean vistas at every turn. The other is the men's group, Los Caballeros, who have been doing the trip for over sixty-five years. After watching the guys go on their manly horse adventure all those years, the women, every bit as skilled and dedicated in their horsemanship, voiced their decision that they wanted to do it, too. So they got organized, contacted the right people, and made their first official trip to Catalina in 1995. Since then, the membership has grown nearly every year. When Honey and I went, it was the largest group ever.
And, Lordy, these women did it right. Not only did they have it dialed in as to the logistics of getting the horses to Catalina and procuring meticulous care for them, but the ladies were exceptionally pampered as well: Five days of luxury camping with bathrooms, hot showers, catered gourmet meals, manicurists, massage therapists, and entertainment and silly events like the "no- talent" show. There were even nightly happy hours with appetizers and cocktails.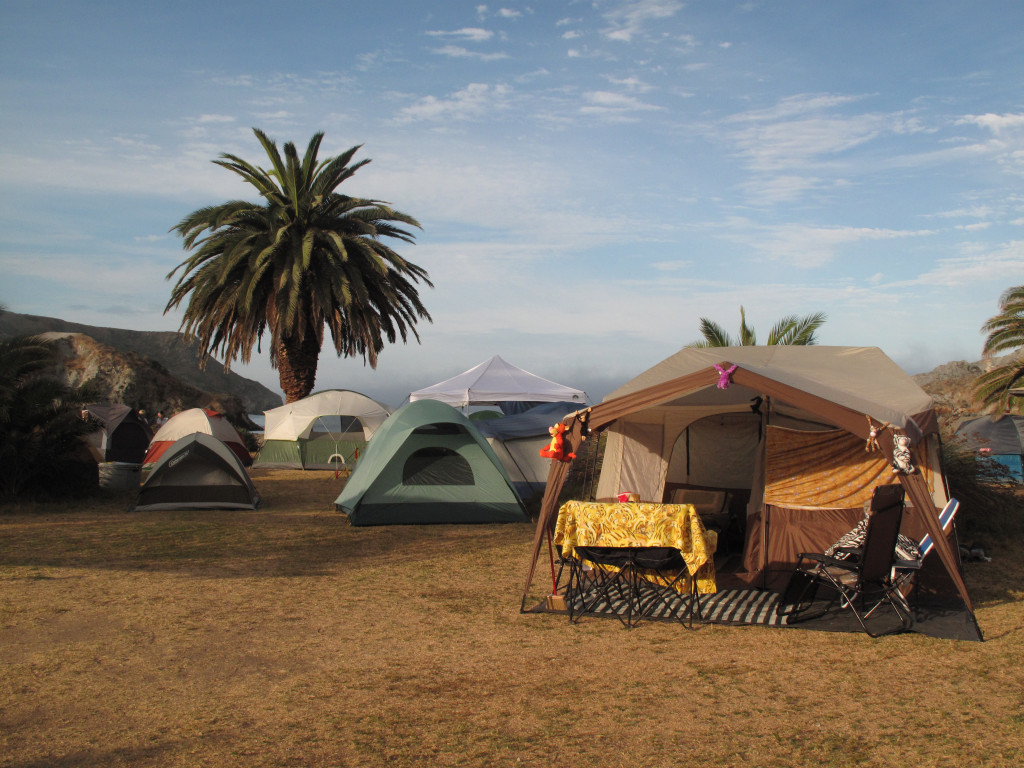 It quickly became apparent that some of the women – the ones that had been doing this for twenty years – had it down to a science. Two of the "Prunes" – original members who had come every year – had an upright tent in which you could fully stand up, and inside it was like a model home. They had regular-height beds, down comforters, plush pillows, nightstands and lamps. They'd even fashioned a covered patio with a large area rug and reclining lounge chairs out front. They knew how to do it right.
In comparison Eugenie and I shared a typical eight-person tent, which only accommodated eight if they squeezed in like sardines. With just the two of us, it was nice and roomy, though with a low pitch so you had to walk all hunched over pin there. Our sleeping bags were on blow-up mattresses on opposite sides, and we tried to keep our overflowing suitcases somewhat in order. Yet it was perfectly lovely. We could hear the ocean roar at night and when you crept out to pee, there were zillions of stars. It was camping its best, right on the beach, on possibly the most gorgeous little cove on Catalina.
But all that was the farthest thing on my mind as I fought to control Honey amid the ten other panicking horses confronting the big lazy bison, who was watching the turmoil he was causing with amusement in his eyes. The horses were prancing and twirling, and Honey was threatening to rear and really go crazy on me.
Taking care not to upset her further, I turned Honey in a circle to, trying to keep my hands gentle and encouraging. But there were horses behind and all around us, all of them excited, jumpy, and uncertain what to do. It was then that I spotted two riders about forty yards back, watching the hullabaloo from a distance. I saw a break in the pack, and talking to Honey all the while, I urged her through it. Tossing her head, she walked quickly over in their direction, and as we got further from the bison, I could sense her muscles loosening.
I recognized them as a mother and a twenty-something daughter I'd met the day before on the boat. They saw us coming, and nodded us over.
"You're smart to get away from all that," I said, as Honey and I joined them. Being near horses that were calm and unruffled reassured Honey, and she started to settle down.
"Yeah, we're not getting past that bison," the woman replied with a weary smile. "And he's certainly not going anywhere."
I laughed. "He's enjoying the show too much."
"We're heading back," said the daughter. She was a cute petite brunette, and looked a lot like her mom. I liked them both instantly. Hard not to, as they'd practically saved my life.
"We're taking a different route," the daughter continued. "Want to join us?"
"Yeah, that'd be great. Thanks." relaxed
Just then I saw that my friend, Casey, from Nellie Gail, and her jet black mare, Raven, were heading toward us. They had come back from the other side, calmly passing the Bison, and the other horses. Raven was blessed with a great temperament and was unperturbed by the commotion. Casey was an amazing horsewoman and had worked with Raven extensively, exposing her to lots of experiences and taking her on trips all over California.
"Hey, Lisa!" Casey called out to me. "We lost a shoe. Gotta go back."
"Oh no! What're you going to do?"
"There's a farrier back at camp. Luckily I got the shoe." She held it up, a grin on her face.
"We're heading back, too," I said. "We're not going past that bison."
"Good, let's go," she said, turning Raven. "It shouldn't take long. There's another road to Little Harbor we can take."
The four of us headed back the way we had come, our horses thrilled that their humans had the good sense to go away from the scary monster, not toward it. In fifteen minutes, the mother/daughter team and I were on a knoll that overlooked the staging area where the horses had spent the night, waiting for Casey and Raven. Within another twenty minutes we were on our way to Little Harbor, but on a wider inland road than before.
With just the four of us, the two-hour ride to Little Harbor was relaxed, enjoyable. Casey and I rode side by side, chatting most of the way. Honey knew Raven as we'd ridden together a number of times at Nellie Gail, so she was pleased also to be with a friend. For the first time all day I was able to take a deep breath, look around and savor the day. The weather was mild with blue skies topped with fluffy cumulous clouds, and we were in the midst of the hilly, scrubby coastal sage habitat of Catalina, with a few lonely oaks trees here and there. We eventually approached a final ridge and stopped to enjoy the view. Below was our campground with colorful tents of all sizes and shapes surrounding the picturesque harbor. At the far northern corner of the cove, I could make out a blue tent that was larger in relation to all the others, that I would be sharing with Eugenie, just steps from the beach and the turquoise water.
We had made it. Somehow. Unbelievable.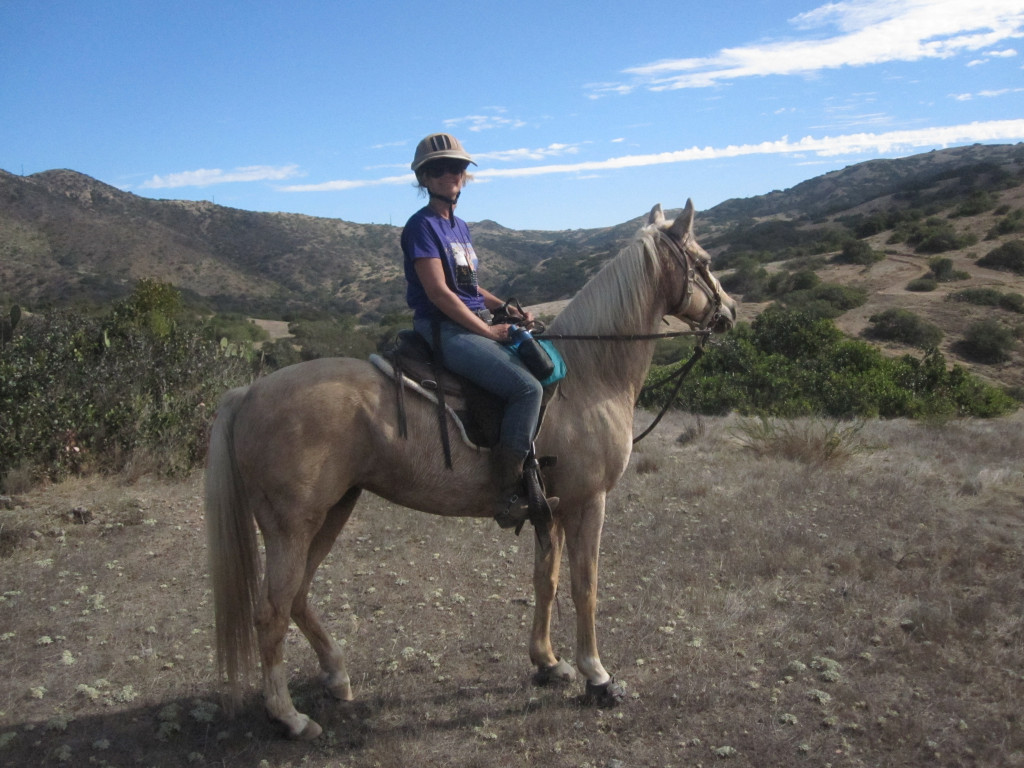 It's unexplainable really, this bond that forms between a horse and a human. It's similar, I suppose, to the love you feel for your husband or your daughter or a life-long friend, yet the connection itself is on a different wavelength. It's also distinct from the bond you may have with your dog or your cat, though these relationships also so intensely touch your heart. But, with horses, it's as though your soul is involved in a different way, as though you're connected to the cosmos. Horses are simply one of God's most magnificent creations.
Back at Nellie Gail, I loved to watch Honey run, to relish her power and her beauty and her joy. I'd lead her into the large middle arena, take off her halter, and she would turn and proudly trot off, then suddenly she'd break into a full-on gallop around the arena, head and tail arched high in true Arabian style, neighing repeatedly in utter gladness. Because the truth is, horses are created to run. They truly are. Sometimes I would imagine the fence was gone and she was running free in a glorious meadow with other horses, just running. Then I would see them all lift into the sky, and they would be high in the stratosphere, galloping among the stars. This was where she belonged I knew… such was her other-worldly spirit.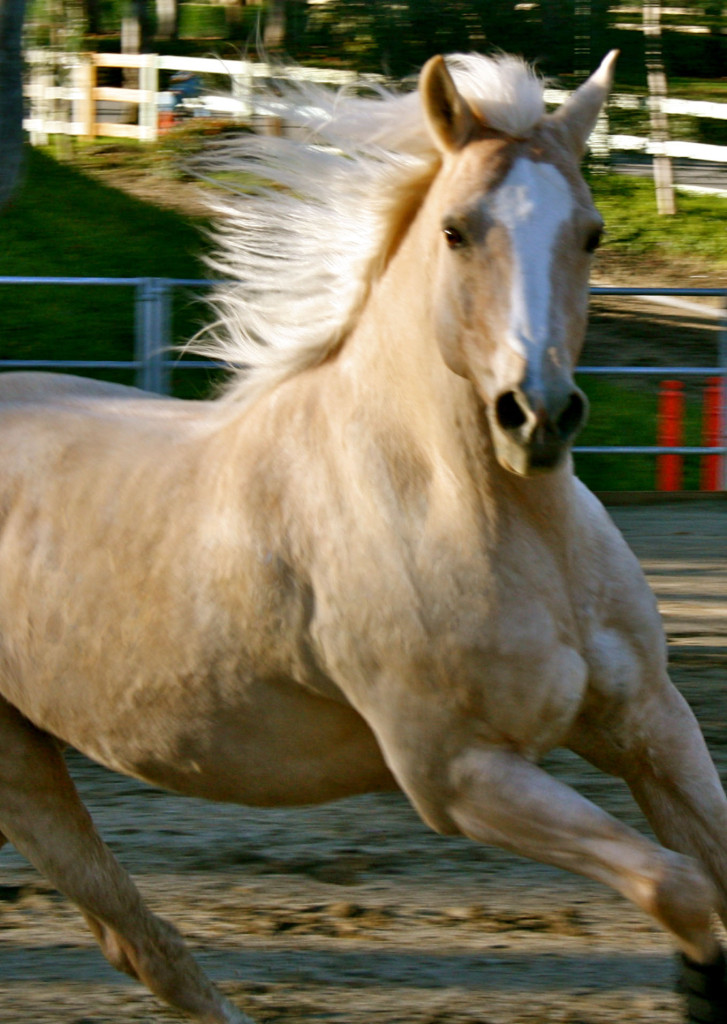 Yet, also there were other times – quiet times – when we were just together, when we would hang out in the tall spring grass, and she would grab mouthfuls of the stuff and she'd be in heaven. Or, when I groomed her, rubbing her ears or her neck, which she loved, or when the two of us were on a shady trail just ambling along. At these times, we were like one spirit. She would communicate silently but loudly to me, telepathically, telling me whatever she wanted me to know. "That person is annoying." "Give me a treat." "Stay here with me." "We are one." For six years we had spent nearly every day together, and I knew her so very well. But truly, she was the one who knew me. She could read me and she understood everything about me. She knew we were partners and I would always be there for her. We had a bond and a trust that transcended all things. I loved that horse, and I know she loved me too.
During our week on Catalina, that connection – that trust – between Honey became our lifeline. She wasn't the same easy-going horse she was at Nellie Gail. On the island, her wild Arabian side was at the forefront; she was on high alert because this was a different world in every way. I was the one thing that was familiar to her, and my presence was the one thing that held her together. As it turned out, it was not the relaxing week I was looking forward to, leisurely hanging with the women after rides. I would constantly worry about Honey and how she was doing with the other horses out in the woods a quarter mile away. But that was okay. The trip was about the two of us. It was all about Honey and me.
The next day, was Wednesday, and it was our first full day with our horses on Catalina. I awoke as the sun was coming up, and the air was cool and crisp outside. Eugenie was buried in her blankets and was also starting to stir. She lifted her head out, and we looked at each other sleepily across the spaciousness of our tent.
"Hey, girlfriend."
"Hey."
"Another day in paradise."
"Yee ha."
Eugenie was a nurse from New Orleans, and she and her husband had moved to California after her house had been destroyed in Hurricane Katrina. We had met a few years earlier when we were volunteers on an "Action Team" that gave support and friendship to a woman with Aids. I had liked her immediately. She was kind, easy-going and she had a silly streak just like me. We also shared a passion for horses. I had asked her to join me on last year's Catalina trip and we'd had the time of our lives. In fact, we had won the award for "Funniest FYGs," for our nutty antics and especially for our skit in the "Talent or No Talent Show."
After a delicious breakfast of scrambled eggs, bacon, sausage, cinnamon waffles and all sorts of other delectable choices, a group of us decided to take a ride to Catalina's historic "Middle Ranch," where in days gone by the Wrigley family had raised their Arabian horses. As I approached her, Honey had spotted me from a distance, and I could see she was happy to see me as her eyes bright and eager. She nudged me and stomped restlessly, then raised her head to survey her surroundings. She looked beautiful as always and I was excited to spend the day with her. I stroked her, gave her a hug, and she gobbled some horse treats I had tucked into the tack chest.
About eight of us rode together through shaded, tree-lined valleys. We crossed streams and fresh water ponds, then zig-zagged up to a higher elevation where we saw amazing vistas of the meandering coastline. Honey moved well, negotiating the rocky terrain and undulating hills with enthusiasm. She spooked one time that first day, jumping to the side and half-rearing, when a couple of the horses got into a tussle near a watering trough. I circled her around several times to calm her down, then urged her forward. Continuing on briskly with the group took her mind off the skirmish and she was fine. When we got back to the horses' area, I got her saddle off, and we waited in line behind a few other horses to get a refreshing hose-off by the wranglers.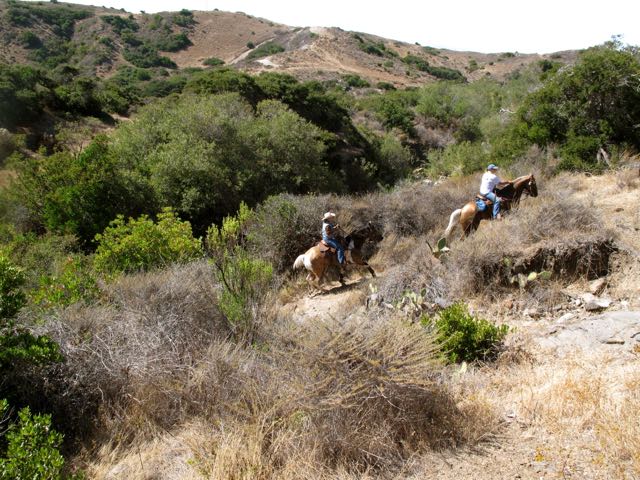 The next day, I got up early to deflate my air mattress, and pack my gear for an overnight trip to Black Jack campground. Eugenie and Jen had wanted to do it, so Marianne and I signed up, too. Black Jack is located at an elevation of 1,600, near Catalina's highest peak, Mt Orizaba. There were about twelve of us going and it was a long, four-hour ride on some very challenging hills and trail conditions. Because of the heightened energy she had, and possibly because she also considered herself the alpha-mare of the group, Honey insisted on being at the front, along with the faster, gaited horses. By the time we arrived at the camp, the sun was getting low in the sky and my beautiful girl was a dark gold color as she was drenched in sweat.
The campground was nestled among a forest of pines and Eucalyptus trees, and Honey was assigned a tree near the outskirts where she would be tied to a branch near Eugenie's horse, Luke. During our ride there, someone had told me that the year before one of the horses had been gored by a bison at Black Jack. This unnerved me, but I was assured by the wranglers that they'd keep a very close watch all night. After setting up our blow-up mattresses and sleeping bags along the edge of a cleared area, we hung around the campfire, eating pasta and salad and telling ribald stories. Later as I lay in my sleeping bag, I stared up at the big moonless sky, unpolluted by city lights. The heavens were ablaze with millions of stars and the Milky Way seemed to swirl around the cosmos with its magic debris. It felt like I was I the middle of it all, and I was grateful to be part of this big amazing universe.
The next morning, we had breakfast, broke camp and and soon we were headed back down. We met up with the rest of the women at Middle Ranch by mid-afternoon where there were horse games and obstacle courses in the spirit of friendly competition. Honey and I entered one of the events, and it didn't turn out so well. When it was our turn, we went in the arena and the first challenge was to take a toy from a barrel while on horseback. I circled Honey around the barrel and she was immediately wary of the weirdly smiling stuffed monkey on top. However, I finally got her close enough to grab the monkey, and when I did, she panicked and began backing up as fast as she could go.
"Drop the monkey, DROP THE MONKEY!" the gals who were watching shouted. I tossed the monkey away and Honey immediately stopped her back-peddling. She turned her head to meet my eye.
"You nuts?" she seemed to be saying. "No monkeys on my back!"
The entire week was a great adventure, but completely different from the previous year. Then, "Sweet Marie" would be all groomed and saddled when I was ready to ride; and when I was done, a wrangler would take her and tack her down. I had plenty of time to relax in the tent and joke around with Eugenie. Or we would grab a plastic cup of wine and our beach chairs and hang with our other friends at camp, laughing and having a grand old time. Having Honey this time made it an entirely different, and very challenging, experience.
The trip was hard on her – and on me – both physically and mentally. At home, everything was easy and familiar. She had her routine, and her horse friends, and the familiar trails. On Catalina, she depended on me, and needed me. As a half-Arab, she was inherently high-strung, so I had to learn all over again how to handle and soothe a nervous horse.
One morning when I got to the staging area, there was a commotion going on among the horses. I caught sight of a bison in the hills, walking at a fast clip in our general direction. A moment later, I noticed a wrangler was a few yards behind it, chasing it with an air gun.
The bison, looking very annoyed, continued to lumber along, coming directly toward us. Suddenly it plopped down, no more than thirty yards away. The wrangler decided to let it stay there, as it was far enough away from most of the horses. But it was uncomfortably close to us.
Honey was beside herself, skirting from side to side, but not getting far on her lead line. I stood next to her trying to calm her, and just praying to God the bison would leave. But he didn't. He laid there like a big hairy boulder, his legs tucked under, and his beady little eyes on us. But he didn't look threatening, so I decided to just try to groom Honey, brushing her body with gentle strokes, and then combing out the tangles in her her mane and tail. By the time I was done, Honey was used to the hunch-backed beast hanging around, and she was grazing on her hay. I got her saddled, and then led her away to meet our friends.
Once I mounted her, Honey walked along briskly with the other horses, and we embarked on a beautiful ride to a covered picnic area about an hour way. However, when I tried to tie her to a post with the other horses, she would have none of it, and was prancing all around. So, I untied her, brought her to where the ladies were having their lunches, and held on to her rope while I ate. This made her perfectly happy. Honey always loved to be one of the girls.
Friday night was the Talent (or No Talent) Show, and the pressure was on to live up to last year's performance. The camp theme then had been "Island Safari," and Eugenie and I had stolen the show. Performing to Jethro Tull's Bungle in the Jungle, Eugenie had been a hunter with a rifle creeping around looking for game, and I was a cannibal complete with painted face, crazy hair and bone in the nose. I was stalking her, presumably hoping to trap her and boil her up, but Eugenie acted like she was totally oblivious. At the conclusion, we had a stare-off across the stage, at which point I lifted my camera, flashed a big smile at her, and took a picture. We got cheers and applause and were the talk of the camp the next morning.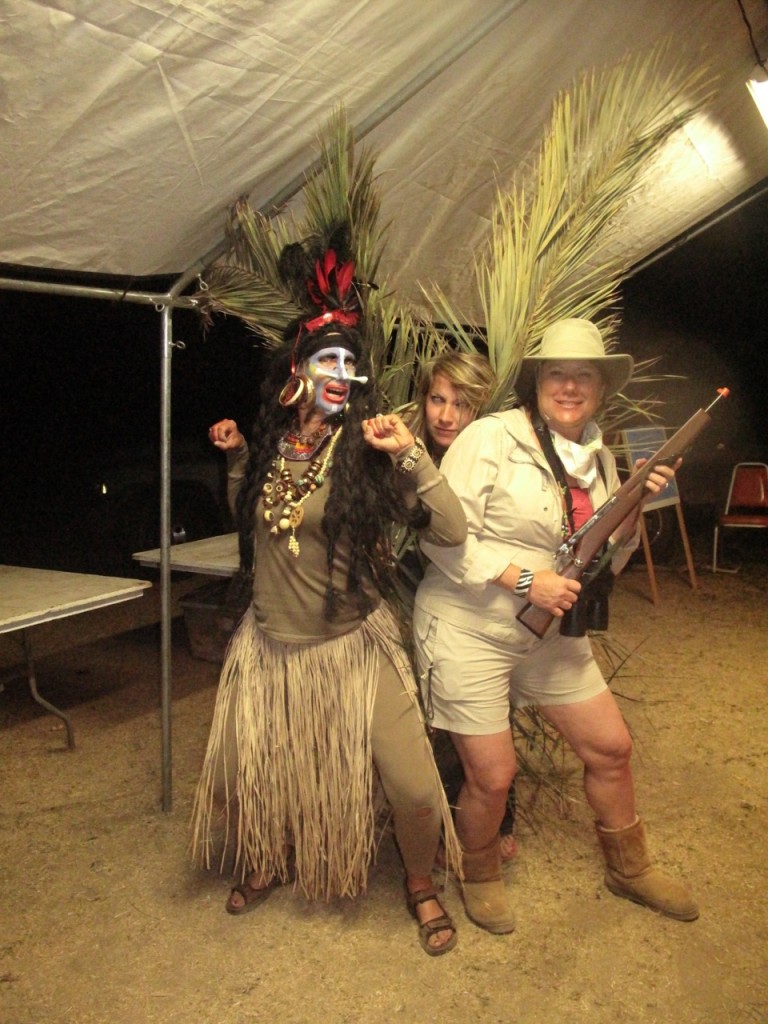 The theme this year was "Mardi Gras," and we struggled to come up with an act as good as last year's. I'd written a skit about three older, mid-Western ladies who did some rather crude things to get the cheap beads that people throw around during the Mardi Gras frenzy. Jen thought it was hilarious, but Eugenie, who was from New Orleans, had her heart set on doing a "Zulu" parade. Problem is, we never quite figured out how to pull it all together – we were just a bunch of natives in leotards jumping around and throwing beads to the audience – and we landed in the category of "No Talent." But no matter, it was all part of the fun.
The next morning, I got up early and hand-walked Honey the quarter-mile or so to the shore. She was a real handful, prancing the entire way, and my arm and entire body was sore trying to keep her under control. When we got there, many of the gals were on their horses riding down the beach and others were in the shallow water, lazily hanging out. Casey and Raven were quite a distance out totally submerged and swimming around, only their heads peeking out of the water.
But Honey was amped up. There was a slight breeze, and the unique sounds and smells of the ocean excited her. She loved to roll in sand, and she could see there was endless amounts of it. Suddenly, with me hanging on to her lead rope, she dropped to her belly and then onto her back, and rolled luxuriously in the sand, kicking her feet exuberantly in the air. Then she jumped up, and bucked a few times. Somehow I got her back to the horse area, with her prancing and straining at the rope the entire way.
When we finally arrived back, Honey's hay was waiting for her, so I tied her to her line. She quickly settled down, lowering her head to eat. I sighed in relief, and scratched her forehead and ears, which she loved.
"Kiss?" I asked.
She lifted her head and bumped her nose to my lips, then looked around the hillside as if searching for the Bison.
I didn't have a treat to give, but she turned and lightly bumped my face again.
My relationship with Honey was less complicated than the ones I had with people. It was simpler and more honest in many ways. There wasn't the worry of saying or doing the wrong thing, of inadvertently hurting someone's feelings and struggling with how to make it right. I certainly made many mistakes with Honey, but she never held it against me. She always did her best for me and gave me everything she could – even though it was in her nature to be independent, to be the alpha mare.
It's true, sometimes you could tell she was mad at me. But only if I'd been away for a few days, or, even more disconcerting, for a week or two when we'd gone away on vacation. She'd let me know it'd disturbed her and she'd turn her back on me when I went in her stall. But after I'd groveled a bit and given her some treats, she'd forgive me and all would be well.
She wasn't as cooperative with Bailey, however, who was the far better rider. Under saddle, Bailey handled her skillfully, and she could get Honey into a beautiful frame. Sometimes they looked absolutely majestic. But Honey saw that Bailey rode other horses, and she was not happy at all when my daughter went off to college and wasn't around very much. This disqualified Bailey from her unwavering loyalty and in fact, brought out Honey's bratty side. In many ways they had a sort of sibling rivalry going, and Honey could get totally obnoxious, much to Bailey's chagrin.
Many times I felt that Honey could have easily chosen to be uncooperative with me as well and to simply refuse – like she had early on – to do what I asked if she didn't feel like it. But Honey truly wanted to please me. I was there day in and day out, and she depended on that. But more than anything, we belonged to each other. In time we became of one heart.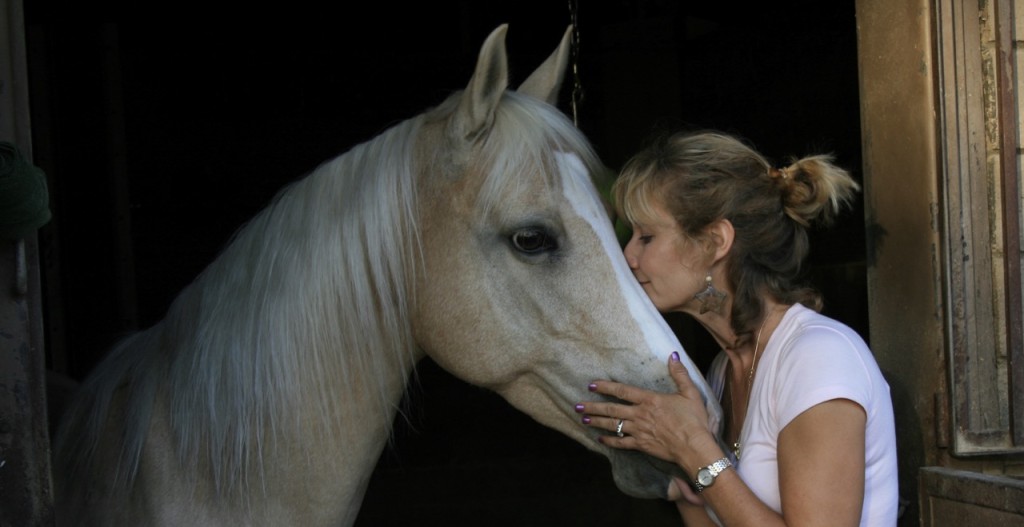 Sunday morning rolled around before we knew it. We had to eat breakfast, tear down camp, and be on our horses heading back to the Isthmus by ten o'clock. It would take about two hours by horseback. The horses would spend one more night resting at the staging area near Two Harbors, but our boat transporting the women would be leaving port around one o'clock that same day. It was a crazy, hectic morning.
At last I was astride Honey on our final trail ride of the trip. She looked gorgeous and was in good spirits and ready to go. As it turned out, six of us would be heading out together, including Eugenie, Jen and Marianne, whose horses liked going at a leisurely pace. Two of our other friends, Laurie and Michele, had gaited horses that moved at a fast pace, and they wanted to join us, too. It wasn't an ideal situation for Honey and me, but there was little I could do.
As usual, Honey wanted to keep up with the horses at the front, which meant she was constantly trotting or prancing and therefore drenched in sweat in very short order. There was no use holding her back, so I let her do what she wanted. Actually, I was anxious to get back myself. I just wanted to survive this trip and to get to Two Harbors in one piece.
Despite the fact that three of us riders were way in front, with the other three lagging behind, the ride was going smoothly enough. I was proud of Honey, of her spirit and willingness to do this difficult trip. She had taken care of me, and behaved admirably, and she'd given her best the entire week. Certainly she had been a challenge to handle – she was Honey after all – but so far, we had done it. There had never been a dull moment. It was an adventure with the one and only horse I'd ever have, my wild, sweet, beautiful Honey. I would cherish this week my entire life.
Finally, we came to a ridge that overlooked Two Harbors. Honey and I were the first to get there, along with Laurie and Michele, and then the others joined us. We looked out to the incredible view of the vast, sparkling ocean, with the circular harbor below us, sprinkled with a few tiny houses and buildings. We could see a haze shrouding the mainland of California some twenty-six miles in the distance. The breeze was refreshing after riding for two hours in the sun. We took turns taking pictures with the clear sky and deep blue ocean as a backdrop.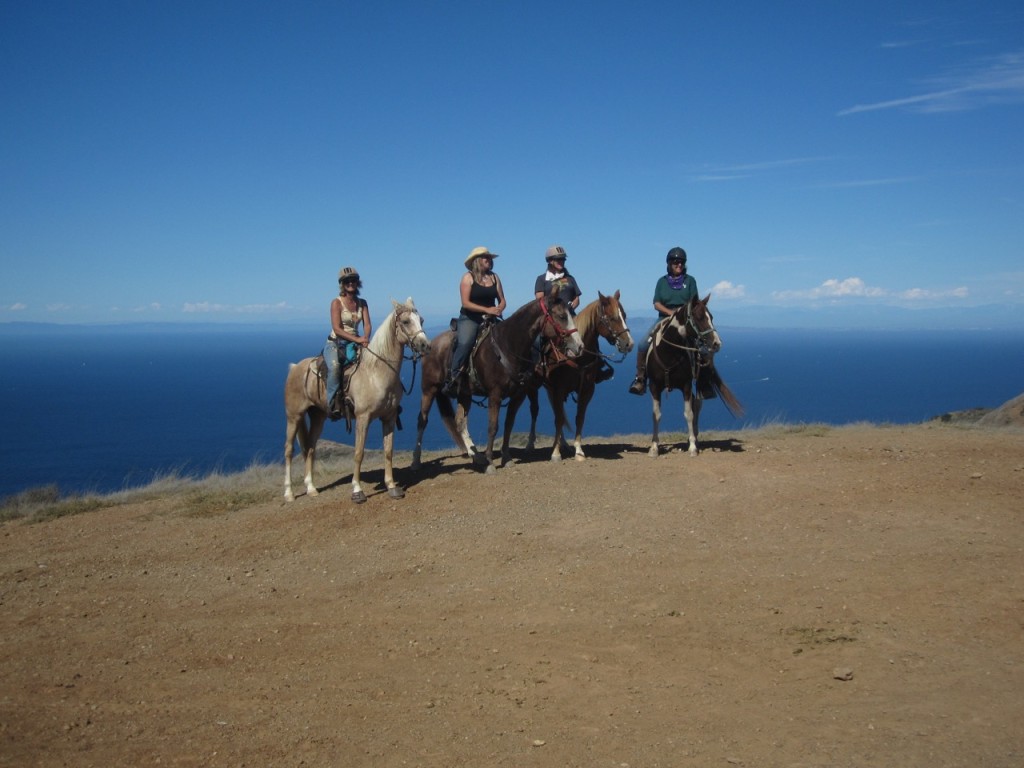 In another fifteen minutes we'd be home free. One by one we left the ridge and back-tracked to a downward, narrow stretch of trail that leveled off to a lovely grassy area with some scrubby oak trees. As we rode along our moods were light and we chatted happily. I felt such relief that Honey and I had survived this trip.
But suddenly the horses – all of them at once – stopped in their tracks.
"Oh CRAP!" I said. I could barely believe my eyes.
Just ahead was another huge bison, and he didn't look friendly at all.
This beast was different from the ones we'd previously encountered. He had two weathered horns shooting from his head, and he seemed downright pissed off. He was standing there, his huge brown scruffy body atop little peg legs, and as if to make some sort of point, he stomped a hoof. Then (was it my imagination?), he made several abrupt scrapes on the ground. Just like a bull facing a matador.
"We're doing it," said Michele. And just like that, Laurie and Michele urged their horses swiftly past the beast. He didn't move as he watched them go by, but just turned his attention back to us.
In the seconds that followed, the entire trip flashed through my mind: I saw Honey and me sloshing through deep rocky riverbeds, walking on deserted beaches, and negotiating steep, treacherous roads to incredible view points. I saw us riding to camp on a black, moonless night and me praying nothing would lurch out of the dark. We had been put to the test and had flirted with disaster but somehow – just barely it seemed – we'd survived. But then, I looked at that Bison snorting back at us, and I was suddenly flooded with anxiety.
Whatever made me think I could do this?
Just then, Jen, astride her horse Strawberry, yelled to the rest of us. "Wanna just go for it?"
Marianne on her spotted paint, said, "Stay close together."
"Give him a wide berth," yelled Eugenie.
Eugenie looked at me, raised her eyebrows and gave a little laugh. I took a deep breath and we nodded at each other.
And then we just did it.
Like a small army cavalry unit bunched together for protection, the horses moved together in unison as if going into battle. Honey and I pressed closely against Strawberry's rear, and Luke and Eugenie were stuck to our side. Marianne and Stalker led the way, and together we rushed right past that ugly beast.
Once we were fifty feet beyond, the four of us cheered, but we didn't look back. I patted Honey repeatedly and told her what a commendable mount she'd been. We had done it.
Finally, back at the Isthmus, I dismounted Honey, and removed her saddle and bridal. A pile of hay was waiting there and she eagerly began to eat. She paused to lift her head to nuzzle me, and ask if I possibly had a treat. I dug in my pocket and found one, which she happily took from me. I sat on the ground beside her and relaxed by her side while she ate.
I got to my feet and spent a good hour grooming her and getting her tack together, at which point I had to say goodbye to catch the boat home. The horses would be well tended that night, and they'd make their journey in the morning, when the ocean would be most calm.
In the weeks and months and years to come, I'd reflect on this trip and smile. I spent one amazing week with the most gorgeous spirit in my life. Once home, Honey walked the trails of Nellie Gail with an extra bounce in her step, and she seemed to have grow dramatically in confidence. I was more aware than ever that having this horse in my life was one of the best things that had happened to me. She added a whole new dimension to my life, offering me sweet and difficult challenges and the thrill of conquering them together.
But most of all I knew that Honey was and always would be my soul horse. I surely would never tame her beautiful wild spirit, nor she mine, but we would forever be of one heart.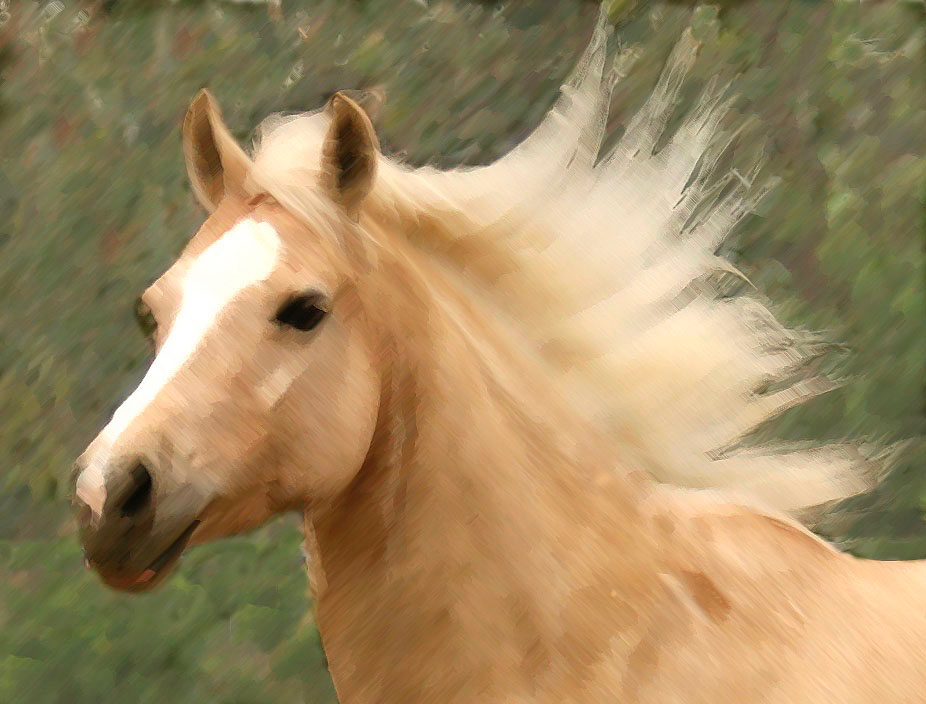 Copyright 2016 by Lisa Padgalskas Hand